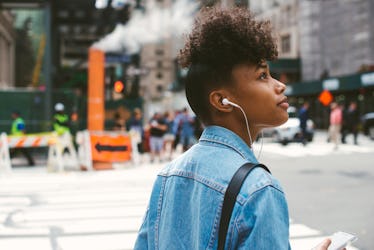 8 Little Ways To Feel Comfortable When You're Alone That Actually Work
I'm the type of person who needs alone time. While I'm often quite social and have lots of friends, I also have the tendency to get super overwhelmed if I don't give myself time to decompress and be all by myself. Alone time allows me space to center myself and unwind. That being said, knowing how to be happy when you're alone can definitely be a skill that takes time to master. Hell, as much as I enjoy my alone time now, it definitely took me a while before I really figured it out.
For many people, spending time alone can be kind of uncomfortable and, you know, lonely. Being alone means there's no buffer between you and, well, yourself. But trust me, since I've practiced giving myself some regular time for just me, being alone is not only something I need for my emotional health, but it's also something I deeply enjoy.
Furthermore, guys, while you may sometimes see negative stereotypes associated with people who enjoy spending time alone (like it somehow makes you antisocial or means you're unhappy), studies actually beg to differ. Spending time alone can help to make you more centered, calmer, and more open-minded.
So, here are some tips for not only developing ways to spend time alone, but also ways to genuinely enjoy that "me" time for exactly what it is.