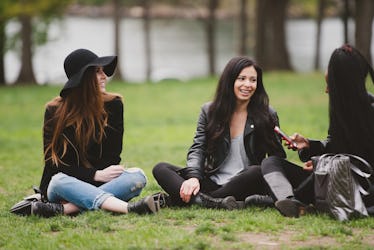 8 Little Changes You Can Make To Feel Happier At School If It Doesn't Feel Like Home Yet
For the first few months of college, I was deeply homesick. I'm talking tears at night, on the phone with my mom every day, and planning an escape as soon as possible. It didn't help that when I was going back to my room at night, I was sleeping on a mattress that basically felt like a cot, and all my walls were made of this sad, clinically white cinderblock. Learning how to be happy at school was a bit of a process for me, but trust me, it happened. After a while, I was actually really sad every time I had to leave campus. It started to feel more like home than my actual home did.
If you're going through a rough time at school right now, then yeah, that might seem impossible. Trust me, I get it. It felt so overwhelming to not only be surrounded by new people every moment of every day, but also to be constantly experiencing new challenges.
But the big secret? You are far from the only one who feels this way. According to a survey from the UCLA Higher Education Institute, 69 percent of first-year college students feel homesick. So, chances are, that person you're brushing your teeth next to in the communal bathroom is missing their dog and their bedroom just as much as you are.
Here are some tricks to help make school seem a little more familiar.