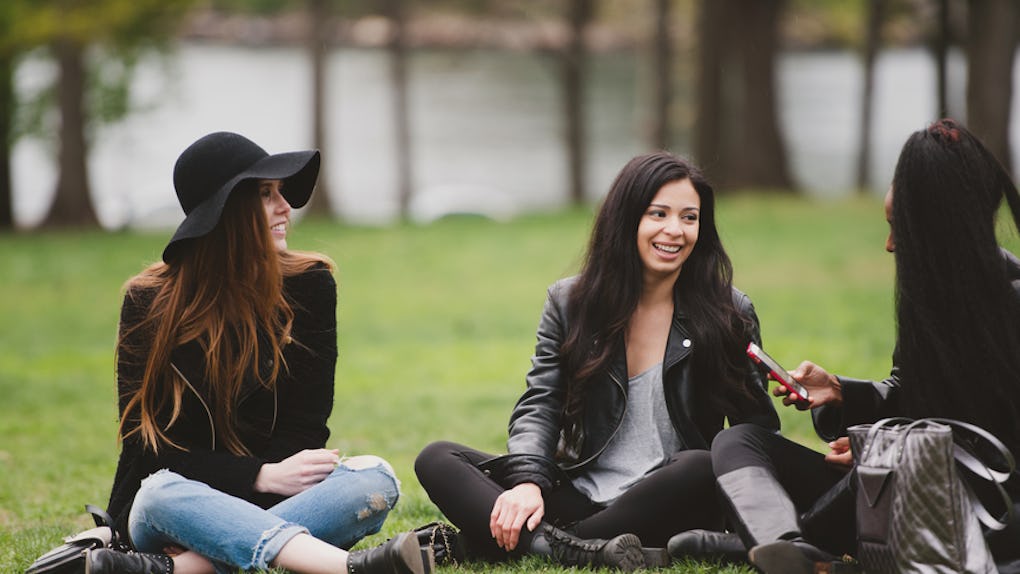 Lauren Naefe
How To Be Happy At School If Your College Doesn't Really Feel Like Home Yet
For the first few months of college, I was deeply homesick. I'm talking tears at night, on the phone with my mom every day, and planning an escape as soon as possible. It didn't help that when I was going back to my room at night, I was sleeping on a mattress that basically felt like a cot, and all my walls were made of this sad, clinically white cinderblock. Learning how to be happy at school was a bit of a process for me, but trust me, it happened. After a while, I was actually really sad every time I had to leave campus. It started to feel more like home than my actual home did.
If you're going through a rough time at school right now, then yeah, that might seem impossible. Trust me, I get it. It felt so overwhelming to not only be surrounded by new people every moment of every day, but also to be constantly experiencing new challenges.
But the big secret? You are far from the only one who feels this way. According to a survey from the UCLA Higher Education Institute, 69 percent of first-year college students feel homesick. So, chances are, that person you're brushing your teeth next to in the communal bathroom is missing their dog and their bedroom just as much as you are.
Here are some tricks to help make school seem a little more familiar.
1. Invest In Making Your Bed As Cozy As Can Be
Seema Back To Campus Percale Comforter Twin/Twin XL, $99, The Company Store
Those twin beds you typically find in college dorm rooms don't exactly scream comfort. So if you want to have the coziest sleep possible, you kind of have to take charge. Get yourself a few pillows you really love and a soft, fluffy comforter you'll look forward to wrapping yourself up in at the end of a long day of classes and extracurriculars.
The goal is to make your bed a safe haven you actually want to sleep in, especially if homesickness has you feeling vulnerable and emotional. Quality shut-eye is not to be taken lightly, as lack of sleep can affect everything from your focus (which is particularly important for school, amirite?), to your general mood, and even your immune system.
2. Have Your Favorite, Most Comforting Snack On Hand
Tate's Bake Shop Chocolate Chip Cookies, See store for price, Target
A good friend of mine who knew I was feeling down at school once sent me a box full of packages of my favorite (and sadly discontinued) Pepperidge Farm cookies, the Lido. We're talking 12 packages of Lidos. Ugh, RIP.
Anyway, it made me feel so, so good to have snacks around that I genuinely liked, especially ones that had a special place in my heart.
What's the treat you eat while you're just hanging around the house watching The Great British Bakeoff? Whatever it is, make sure you have it on hand.
3. Cultivate Soothing Vibes In Your Dorm With Mood Lighting
Flameless Wax Votive Candle Set Of 4, $15, Pottery Barn
So, most dorms don't allow candles because, well, fire. But that doesn't mean you have to go without that warm, soothing glow. A little string of holiday lights around the window or a few of those tiny electric votives will totally mellow out your tiny cube of a room.
And if you're really in need of a mood boost, consider a light therapy box, which emulates daylight. If you have major depression, definitely consult a doctor before you use this, but keep in mind light therapy boxes have been shown to have a positive impact on people with seasonal depression, as well as people who don't have depressive disorder. But if you're just in need of a little energy and spark, it's worth a shot.
4. Decorate Your Room In A Way That Makes You Feel Content
Potted Succulent With Copper Pot, $9.95, CB2
I know this might seem obvious, but how many dorms do you see with bare walls and nothing to add a little pizazz except for Cup O' Soup containers and piles of books?
I know when I put my Baryshnikov poster on the wall, tacked up a few of my Polaroids, and added a nice (very, very low-maintenance) mini cactus, things started really looking up.
5. Soothe Frazzled Nerves And Loneliness With Your Favorite Tea
Kusmi Tea Anastasia, $15.90, Amazon
Get yourself a hot water heater to keep in your dorm, because trust me, the ease of those bad boys is unparalleled. You just press a button, and in moments, you have hot water!
Keep a delicious collection of teas in your room for a cozy and calming treat. Indulge a little by splurging a bit on a fancier brand you wouldn't normally purchase, and sip when you need to.
And hey, maybe it'll be something to offer your new pal from your Modern Lit class, right?
6. Take A Stroll Around Campus
Go on a walk just to get to know the joint!
Notice things that are special and unique to your campus, like its proximity to a river, or a particularly beautiful library building. Pretty soon, you'll know this place like the back of your hand.
7. Keep Pictures Of Places That You Want To Go
Think an ocean in Australia, a pine forest, or a piece of art that blows your mind. This can remind you of the reason you've chosen to go to school and step out of your comfort zone in the first place. After all, you're off to try new things, learn new skills, and see the world.
Plus, the power of visualization in altering your thoughts is very real. Let these images serve as inspiration whenever loneliness strikes or creativity is lacking.
While your first impulse might be to plaster pics of your family and friends all over the place, maybe just keep them in a special box or a scrapbook so as not to remind you of missing them all the time.
8. Carry Around Something Special
I personally carry around crystals these days, which are believed to have healing benefits.
Look, even if it's just a placebo effect, it makes me feel at home wherever I go, just by knowing I've got something on my person that feels like a tiny gem of protection. For you, maybe it could be a little shell or a note with your favorite saying written on it.