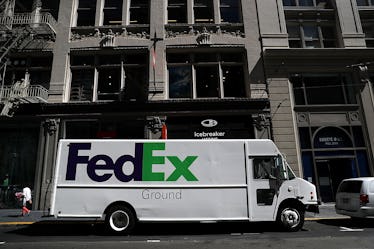 There's A Fedex Holiday Email Scam Going Around & Last-Minute Shoppers Are At Risk
Justin Sullivan/Getty Images News/Getty Images
Over the next few days, shoppers will make last-minute trips to malls, outlets, and stores to wrap up their shopping. With Christmas just days away, they'll also be getting online to finish things up (big shout out to expedited shipping). Unfortunately, some scammers are trying to take advantage of online holiday shoppers with a fraudulent email. Here's how to avoid the FedEx holiday email scam.
People are reportedly receiving fraudulent emails in their inboxes that appear to be from FedEx, according to KXAN TV. The subject line reads: "FedEx: Delivery Problems Notification." When the email is opened, users are prompted to open an attachment, which likely contains a virus.
FedEx notes on its Customer Protection Site that these types of scams tend to increase during the holidays, due to the high volume of packages being delivered. If you're a meticulous package tracker like me, it can be easy to fall victim to an email like this, which attempts to exploit the anxiety of shopping online and fluctuating delivery dates.
To avoid getting scammed, a simple solution is to send any email with the "FedEx: Delivery Problems Notification" subject line directly to your trash. If you'd like FedEx to take a look at and beware of the email, you can forward it to abuse@fedex.com. Forwarding the email is a safe action to perform and will not jeopardize your device.
If you are actually tracking a package from FedEx and are unsure if an email is real or fake, it's best to hold off on clicking anything and simply give FedEx a call. Phone lines may be busy (it's the holidays), but it's well worth the wait to make sure your packages are okay — and double worth the wait to avoid getting a virus on your computer.
The Customer Protection Site offers examples of a number of other scams, as well. The common theme among these emails is that there is something of yours that is in jeopardy — a package, an ATM card, a check — and is in FedEx's possession. The emails will typically ask for some amount of personal information, ranging from your name and address to your sex and occupation, and sometimes a "small fee." FedEx notes that it does not send unsolicited emails to customers requesting information regarding packages, invoices, account numbers, passwords or personal information — so if your email from "FedEx" is asking for any of this, there's a good chance it's fake. But again, if you're having doubts, feel free to give them a call.
Another thing to look out for are typos or misspellings. FedEx is a professional company and therefore it is unlikely that grammatical or spelling errors would appear in their emails. One scam example on the Customer Protection Site has over ten typos in it — not exactly what I'd call a smooth getaway.
In addition to being aware of what fraudulent emails look like, there are a few proactive measures that you can take to avoid being scammed. Perhaps the most obvious is to keep your credit card and FedEx account numbers safe by not sharing them with anyone. Additionally, be sure to use strong passwords that follow the FedEx requirements, and avoid including any personal information in the password that might be easy to guess or obtain via public records or social media accounts. FedEx also offers the Shipping Administration tool, which allows you to manage your accounts online, control who can ship packages using your accounts, and view your shipment activity.
Don't get scammed in the whirlwind of shipping updates, promotions, and sales in your inbox. Having a safe holiday means protecting your personal information, too.
Check out the entire Gen Why series and other videos on Facebook and the Bustle app across Apple TV, Roku, and Amazon Fire TV.