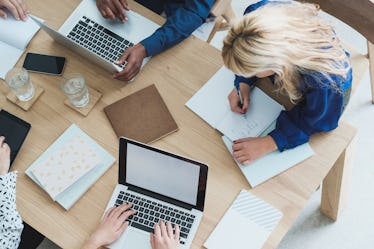 Five Little Ways To Protect Yourself From Getting Sick At Work
I know you don't want to hear this, but office workplaces are basically cess pools of bacteria — particularly during cold and flu season in the winter. When you go to work, you're coming into contact with so many germs, and so many people, that it almost feels inevitable you'll get sick when you think about it. Figuring out how to avoid getting sick at work can be a full-time job all on its own. Plus, there's the added stress of pleasantries: You don't want to be rude, but you really would rather not be near that lady in human resources who's been coughing for days.
Unfortunately, unless you can work from home for the entire duration of the flu season, you'll have to find a way to reconcile your work responsibilities with your desire to avoid becoming a phlegm machine.
The good news is that there are plenty of ways to minimize your contact with potentially dangerous germs, and most of them have to do with avoiding any and all unnecessary contact. The 2018 flu season has been especially intense, with experts predicting it to potentially be one of the worst outbreaks the world has ever seen — and you can feel free to tell your boss that, when she asks why you're walking around in a bubble suit.
Here are five totally reasonable, non-bubble suit strategies for avoiding the flu while still maintaining a steady income.