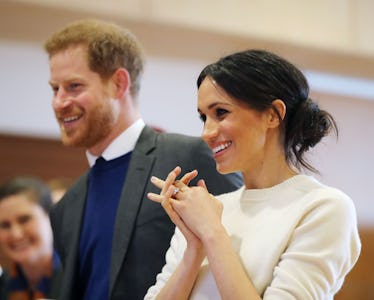 You Can Apply To Be A Chef For The Royal Family & It Sounds Like A Dream Job
Pool/Getty Images Entertainment/Getty Images
With the royal wedding for Prince Harry and Meghan Markle just weeks away, it's becoming even harder for us non-royals to stop ourselves from fantasizing about what it must be like residing in Buckingham Palace and enjoying a charmed life filled with royal princes, tiaras, and the like. It turns out that reality might not be too far away for one gourmet-minded individual who knows his or her way around a kitchen. Even though Prince Harry might be officially off the market, there's another way to live out the fairytale of residing alongside the royal family IRL: as a chef for Queen Elizabeth herself. And while there are no guarantees that you'll become fast friends with the longtime monarch, you have the option to live in Buckingham Palace when you apply to be a chef for the royal family.
The royal household has announced that it is seeking a new Demi Chef de Partie — aka an assistant to the palace's main chef — to cook for Queen Elizabeth and all of her esteemed guests, from royal receptions and extravagant state dinners to staff lunches. The job posting emphasizes that "standards are exceptionally high here" (after all, it is the Queen you're cooking for), and they suggest a background working with a premier kitchen or doing volume catering, although this isn't required.
"This is no ordinary Demi Chef de Partie role," the post says. "In our state-of-the-art kitchens, you'll prepare classical and contemporary menus for a wide range of events, learning essential skills that will provide stepping stones for a great career."
As you prepare to spruce up your resume, here's a few pointers. Cooks with an affinity towards preparing desserts with chocolate, finger sandwiches, and game entrees might have an edge when it comes to the application process, according to former Buckingham Palace chef Darren McGrady. McGrady, who wrote The Royal Chef at Home, admitted to Food & Wine Magazine during an April 2018 interview, "The Queen is a total chocoholic." While the monarch might indulge in the sweet treat now and then, she's reportedly given up carbs except for finger sandwiches with tea, he said. McGrady also claimed that Queen Elizabeth favors game from her estate for dinner (like pheasant or venison).
While London may be calling your name with the distinguished title, promised free meals, and the possibility of some seriously cool digs (hello, Buckingham Palace), there are a few details to consider before you hand in your two weeks' notice without a second thought.
Get ready to say goodbye to guaranteed weekends off, as the job post requires the candidate to work full time on five full days from Monday to Sunday. In addition, the salary is hardly royal after adjustments for your live-in accommodation. Wages for the position start at only £21,151.88 per year, which translates to about $28,700.
While it might be hard to save money dwelling in one of the most expensive sections of London on these modest earnings, the palace does offer a salary package with 15 percent employer contribution pension scheme plus benefits, in addition to over a month of vacation time (33 days, to be exact), as well as use of recreational facilities. In addition, the successful employee will have the opportunity to travel to work at other royal residences, so there's always the possibility of running into Prince William, Duchess Kate Middleton, and their adorable children. And considering the large number of staff Prince Harry and Meghan Markle's wedding ceremony is sure to require, could an informal invite be on the table?
A free stay at Buckingham Palace, complimentary meals, and a potential invite to Prince Harry and Meghan Markle's nuptials? Sounds like a dream job to me.