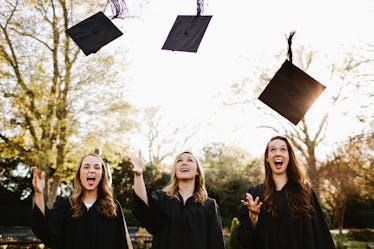 Here's What To Say When People Ask About Your Post-Grad Plans & You Have No Answer
What are the six words every person on the verge of finishing college dreads most? "What are your plans for graduation?" Yep, the dreaded question that starts off benignly, but as the graduation date draws nearer, picks up in frequency and intensity to the point where you start to feel like you're living in some kind of educational achievement-based episode of Black Mirror. It's freaky how often that question gets asked. So, instead of going into a full-blown panic, let's come up with a game plan on how to answer questions about your post-graduation plans, in a way that shuts down the conversation politely and quickly. Because, seriously, how many times are you going to have to have that same exact conversation?
Sure, it's annoying, but for the most part people fall into two camps: genuine interest and just making small talk. Yes, there may be a handful of people who are trying to be shady or judgmental about your choices, but usually you can answer the question in a direct and succinct way that will shorten (if not completely eliminate) the conversation. And for those who are being shady, well, I have a suggestion for them too. Here's how to field those pesky post-grad plan questions like a pro.