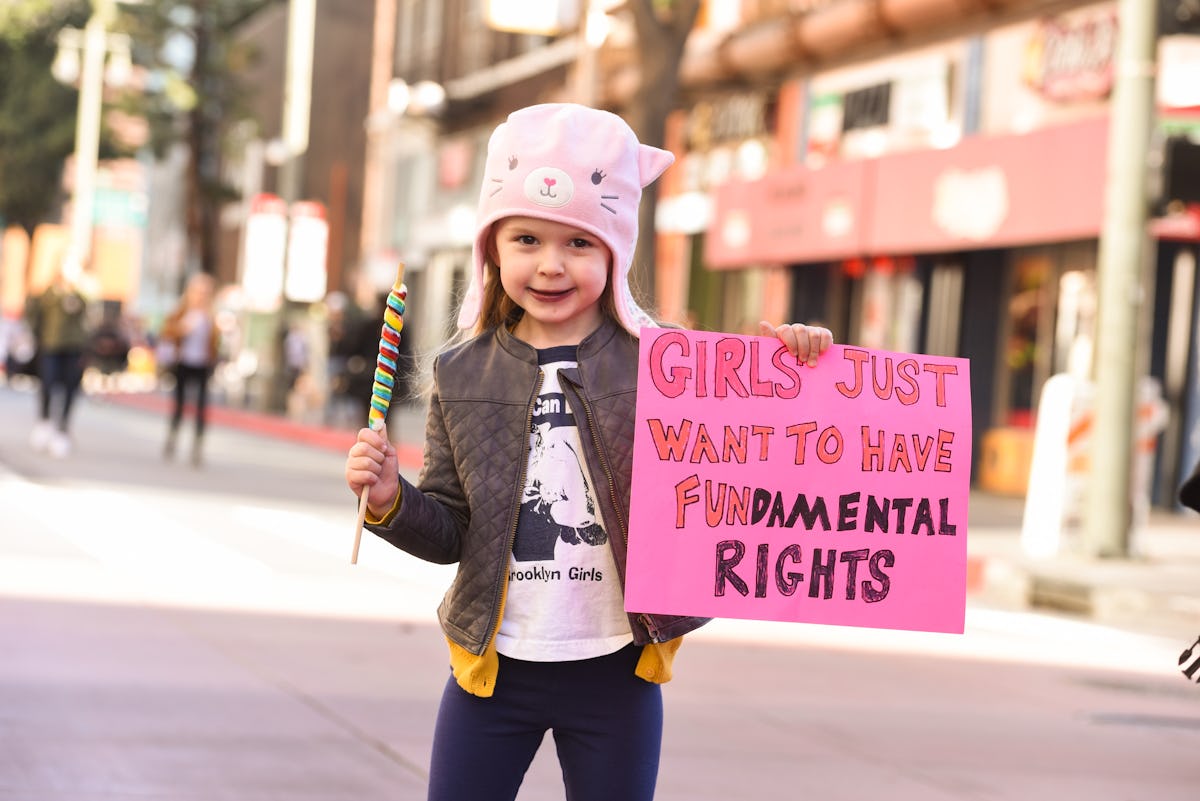 How The Legal Fight For Reproductive Rights Rages On To Protect Roe V. Wade
Presley Ann/Getty Images Entertainment/Getty Images
Jan. 22, 2018 marked the 45th anniversary of Roe v. Wade, a monumental Supreme Court decision to uphold legal access to abortion in the United States. Since then, the movement for reproductive rights has been characterized by unprecedented forward movement, as well as massive roadblocks and setbacks. But in the 45 years since the landmark decision in Roe v. Wade that legalized abortion across the nation, no presidency has been as negative a force on the legal fight for reproductive rights as the Trump administration.
Since taking office just over a year ago, President Trump and the appointed members of his cabinet have waged a war against the reproductive rights movement — and women's bodies in general — from all angles.
The Roe v. Wade decision may have been specifically related to abortion, but the underlying message the court delivered was far broader: Women have a constitutionally upheld right to be in control of their reproductive decisions, within reason. This notion applies to similar political battles in adjacent spheres, most notably the movement for access to contraceptive care, as well as access to reproductive healthcare.
According to Public Radio International, states have passed well over a thousand abortion restrictions since the Roe v. Wade decision in 1973, limiting the options for women who seek safe, legal procedures.
In an exclusive interview with Elite Daily, Amy Myrick, the staff attorney for the Center for Reproductive Rights, highlights the importance of the legal movement that is currently fighting for women to have control of their bodies via their reproductive rights.
According to Myrick, the Trump administration has staged a multi-pronged attack on contraceptive access and reproductive care. While all American women still technically have access to contraception, the Trump administration recently rolled back a federal requirement that says employers must cover birth control in their health insurance plans. "Thousands of women could be affected by this dangerous move," Myrick explains. She characterizes the rollback as "an attempt to allow religious employers to force their beliefs on women — if the courts don't step in."
Myrick tells Elite Daily that the courts are a "critical line of defense against the administration's attacks on reproductive rights."
But here's the problem: The courts won't be of much use if President Trump is effective in nominating his appointees to the highest benches to carry out the will of his administration. "Accordingly, President Trump has promised to appoint Supreme Court justices who will overturn Roe, and several of its nominees to the lower federal courts have openly disavowed abortion rights," Myrick explains.
With only one year down, and at least three to go (as many as seven, if President Trump gets re-elected), it may seem like a staggering uphill climb to continue to fight for reproductive access and justice for all against an administration that so relentlessly attacks women's rights.
If you need to find a glimmer of hope to hold onto, get to know the legal team at the Center for Reproductive Rights.
The Center for Reproductive Rights (CRR) is one of the legal powerhouses working to uphold the tenets of Roe v. Wade in the face of a presidential administration doing everything in its power to dismantle it.
But CRR isn't just drawing from Roe as the only legal precedent to push for reproductive rights. It's also using Whole Woman's Health v. Hellerstedt, a 2016 case that strongly affirmed the constitutional right to abortion, and more specifically, that the state of Texas was unconstitutionally placing "undue obstacles" (like requiring abortion clinics to have facilities comparable to hospitals with surgical centers) in the way of women seeking abortion. Another crucial court case is Planned Parenthood of Southeastern Pennsylvania v. Casey, a Supreme Court decision established in 1992 that struck down the legal provision requiring women to have their husbands' noted consent before getting an abortion.
Myrick explains that "along with Roe, Casey, and other abortion cases, Whole Woman's Health asserts that the government cannot improperly interfere with women's choices."
"We're using that precedent to challenge a range of state-level restrictions," Myrick continues, which include "bans on procedures, mandatory waiting periods, medically unnecessary, but onerous limits on where and how abortion can be provided," and more.
She notes that several of CRR's legal outcomes over the past year have been positive: For example, a Florida State Circuit passed down a judgment in early January 2018 that banned a 2015 legal measure which aimed to force a woman to wait 24 hours and make multiple return trips to a clinic before going through with an abortion. On a broader scale, over the course of 2017, 21 states adopted 58 new measures to support, protect, and uphold reproductive health and rights.
This isn't to say that the work is done; five states in the U.S. are down to just one open clinic allowing abortion access. But there is, at least, positive momentum. This legislative momentum, to Myrick, reflects that "the constitutional right [for safe, legal access to abortions] is strong, even as the political branches assail it."
If you're looking for a way to get involved in the fight for reproductive freedom and proper contraceptive access along CRR, there are a number of ways to contribute.
You can become a member of the Act for Women campaign, which is working to pass the Women's Health Protection Act in Congress, a federal bill that would prevent states from imposing unnecessary restrictions on abortion, interfering with a patient's personal decision-making when it comes to abortion, and/or from blocking access to safe, legal abortion care. The bill was introduced to Congress in March of 2017, but has yet to be considered by the House or Senate.
You can also get to know the Whole Women's Health Act, which is a product of the Act for Women campaign. The Whole Women's Health Act would affirm the right to an abortion as a codified state law.
At the very least, you can listen to the stories of women whose lives were impacted by abortions, both good and bad. We Testify is an excellent resource for women who want to learn more about the fight for abortion from a personal, human perspective.
You can also directly support the Center for Reproductive Rights, whether you'd like to do so financially or through shoutouts on social media.
Of course, there are dozens of other centers and teams working alongside CRR to ensure that every woman can have safe and legal access to reproductive healthcare. In an exclusive interview with Elite Daily, Alexis Cole, the policy director at URGE — an organization dedicated to engaging young people in creating and leading the way to sexual and reproductive justice for all — emphasizes how much work is left to be done in fulfilling the promise of Roe v. Wade.
Cole notes that this is especially important "in states like Texas, Ohio, Alabama, Georgia, and Kansas, where state laws have put abortion access out of reach, mostly affecting young folks, people of color, and immigrants."
The reproductive rights movement is sure to be on full display during the upcoming midterm elections in November 2018. Make sure you know which of your representatives is going to work to uphold Roe, and then fight like hell to make sure they get elected.