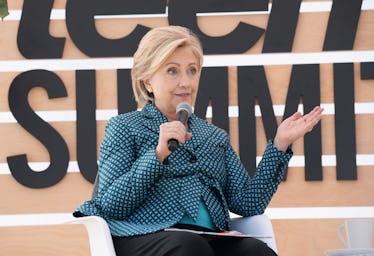 5 Simple, But Powerful Pieces Of Advice From Hillary Clinton About Voting In 2018
Vivien Killilea/Getty Images Entertainment/Getty Images
Hillary Clinton has had a hell of a year. After losing one of the most controversial presidential elections in American history, she could have withdrawn from the public eye for a decade, and most people would've understood. But instead, in true HRC fashion, she immediately went back to the business of informing, educating, and advocating for people across the United States. At the Teen Vogue Summit in December 2017, Hillary Clinton offered advice for young voters, and her words seem to be more relevant now than ever before.
While we endure a less than ideal political situation in our current White House, Clinton's conversation with attendees at the Teen Vogue Summit was focused primarily on the midterm elections in 2018, and the various ways in which young voters can work to regain influence and involvement in the political process.
Clinton explained,
We are facing a concerted effort to turn back progress. This is a well-funded, ideological, and very mean-spirited campaign to strip away rights that have been won by people over the last 50 to 60 years.
Make no mistake that the current administration and their allies in Congress want to undo a lot of that progress.
She aptly described our current political climate as "a burning house," and though "the fire's not that big yet," she emphasized the notion that it can "only be put out by people standing up, claiming their rights and their values again — and getting out to vote."
With that said, voting can (and should) be more challenging than simply picking a political party and checking every box on that ballot for each election. Voting is often especially tricky in smaller, less publicized elections, which is why the crux of Clinton's advice depends upon the notion of educating yourself about the policies that matter most to you.
Here are five simple pieces of advice Hillary Clinton gave to young voters at the Teen Vogue Summit that will not only simplify your experience in the 2018 midterms, but will get you genuinely excited to express yourself at the voting booth next year.