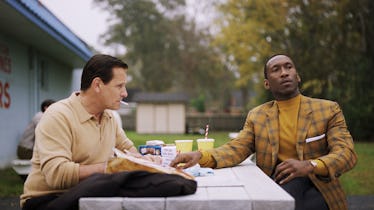 Here's What Movie-Goers Should Know Before Seeing 'Green Book'
Universal Pictures
Green Book walked away this week with no less than five Golden Globe nominations. The movie has been receiving positive buzz ever since it premiered at the Toronto International Film Festival last fall. But for those who haven't seen the film yet (it's on a slow roll release as part of its awards campaign), there are a lot of questions, especially since the film also has been controversial in some reviews. Supposedly the film is based on a true story. But how real is Green Book?
The movie tells the tale of artist Don Shirley and his bodyguard/chauffeur Tony Lip and their two-month journey from New York City into the heart of the deep south where Shirley has gone on tour. Over the two months, the two men slowly bond. Lip, an Italian-American working-class white man, begins the story racist and homophobic, but by the time the journey ends, he has learned to reconsider his bigotry in the face of getting to know Shirley.
The movie claims it is based on a true story. Dr. Don Shirley was a real person, a genius musician who blended classical, blues, jazz, and rock and roll on the piano into a new sound. The story was written by Tony Lip's son, Nick Vallelonga, about his father's relationship with this fantastic artist.
But the movie has also had its fair share of critics, including the family of the late Don Shirley. Family members Maurice E. Shirley, Sr. and Maxine C. Leftwich put out statements not long after the film's release, stating the story of two men forming a friendship across color and classes lines was a "good fantasy in the style of Disney." Elite Daily reached out to Universal Pictures for a comment, but did not hear back by the time of publication.
Leftwich's statement reads in part:
Our family is boycotting the film due to the implicit and the explicit affronts we have endured while critics have hailed the film for its artistic brilliance and its timely juxtaposition to the rise in hate crimes, White Nationalism, and neo-Nazism in the contemporary United States.
Maurice Shirley's letter states:
My brother never considered Tony to be his "friend"; he was an employee, his chauffeur (who resented wearing a uniform and cap). This is why context and nuance are so important. The fact that a successful, well-to-do Black artist would employ domestics that did NOT look like him, should not be lost in translation.
But the actors in the film have defended it, including Mahershala Ali, who plays Dr. Shirley. Speaking to the Associated Press, he said:
It's approached in a way that's perhaps more palatable than some of those other projects. But I think it's a legitimate offering. Don Shirley is really complex considering it's 1962. He's the one in power in that car. He doesn't have to go on that trip … Anytime, whether it's white or black writers, I can play a character with dimensionality, that's attractive to me.
The controversy over how much of the story is true will most likely continue as the Golden Globes approach, and the Oscar nomination race heats up.
Green Book is currently playing in theaters across the US.