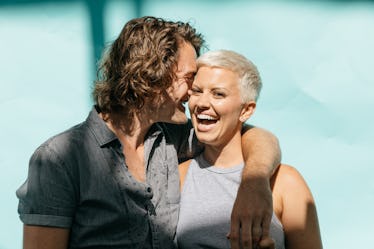 Here's How Old Each Zodiac Sign Will Be If, & When, They Marry
Ashley Batz for Bustle
There's an old gendered trope that's been passed down between generations that I absolutely despise: the idea that every little girl spends her whole life dreaming of the perfect wedding, vision-boarding every little detail. This stereotype perpetuates toxic expectations around who to wed, when to wed, and if you even have to wed at all. The truth is, how old you are when you get married is entirely based on circumstance, your partner, and the nature of your relationship. You should never force yourself down the aisle if you know that, in your gut, you're not ready to do so.
Marriage is not a rite of passage or an accomplishment. It's a choice, and it's completely normal to decide against getting married at all. But if you do decide to engage in holy matrimony, is there a way to predict around what time you should start sizing up for a ring? I decided to consult Linda Furiate, astrologer at Astrology Hub. "That is going to be tough to answer," Furiate tells Elite Daily. "Its really impossible to 'predict' something like that just looking at someone's sun sign." Astrologer and life coach Linda Joyce echoed Furiate's concerns. "Each sign can fall in love early or late," Joyce tells Elite Daily. "What I do think one can gain insight into by sign is how quickly they fall in love, how idealistic they are, and if they have a better chance of it lasting."
So while it's impossible for your zodiac sign to predict the exact age you're likely to get married, down to an exact science, the ballpark range can be made clear by the proclivity for falling in love — you know what? That's good enough for me.