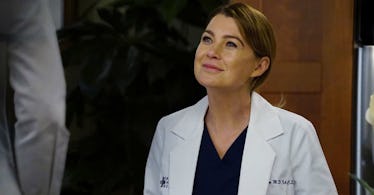 Ellen Pompeo Just Signed A Huge New Deal With 'Grey's Anatomy' & She's Making History
ABC
We all already knew Meredith Grey was a force to be reckoned with, and so is Ellen Pompeo — the actress has sealed a history-making new deal with ABC that will make her the highest paid actress on television. Rounding out the fourteenth season of her hit medical drama Grey's Anatomy, Pompeo just re-negotiated her contract in a massive way, hoping to inspire more women working in television to demand the money that they are worth from studios. So just how much will Ellen Pompeo make on her Grey's Anatomy deal? The tremendously lucrative deal will easily make her TV's highest paid actress, and it also hints at Grey's Anatomy continuing for quite a while longer.
Ellen Pompeo revealed that she will earning more than $20 million per year thanks to her newly inked deal with ABC. Pompeo opened up about her contract in a frank discussion with the Hollywood Reporter, in which she also shared an encouraging speech for other actresses to demand the pay that they know they are worth. Pompeo's new deal has her earning $575,000 per episode of Grey's Anatomy — for some perspective, Variety's estimates of TV salaries from 2017 place only a handful of actors getting a higher per-episode pay, including The Big Bang Theory cast ($900,000 each), Dwayne Johnson ($650,000 for Ballers), and Robert De Niro ($775,000 for an upcoming Amazon show). But what really puts Pompeo's deal over the top is that it comes with a slew of additional back-end deals, such as equity points on Grey's, a seven-figure signing bonus, and producing credits on upcoming episodes of the show as well as its spinoff. The contract also confirms Pompeo will return for the next two seasons of Grey's, which would be Season 15 and Season 16, if they get picked up by ABC. All this adds up to a whopping $20 million per year salary for Pompeo.
If $20 million sounds like a lot, well.. it is, but Ellen Pompeo points out that it is only fair when you compare it to the billions that studios are raking in off of her work:
I'd call Shonda [Rhimes] and say, "Am I being greedy?" But CAA compiled a list of stats for me, and Grey's has generated nearly $3 billion for Disney. When your face and your voice have been part of something that's generated $3 billion for one of the biggest corporations in the world, you start to feel like, "OK, maybe I do deserve a piece of this."
Ellen Pompeo went on to justify her massive salary bump by saying that working on Grey's Anatomy can actually be pretty creatively and personally stifling for her, so she needed a big incentive to keep it up. Because she has to make 24 episodes of TV a year and is forbidden to take any other work due to the contract, Pompeo says the acting is not that interesting anymore, although she still finds producing the show to be fulfilling. And on a personal front, the demanding schedule takes away her time with her three kids.
In the end, the $20 million sounds more than fair for Ellen Pompeo, who has been consistently serving us all up with gripping drama as Meredith Grey since 2005. Pompeo said that she shared the behind-the-scenes details of how she nailed down her big network deal in order to encourage other women in the business to do the same, and not let the network get away with paying them less than they deserve.
Grey's Anatomy is currently midway through its fourteenth season, having just aired its milestone 300th episode a earlier in the season.