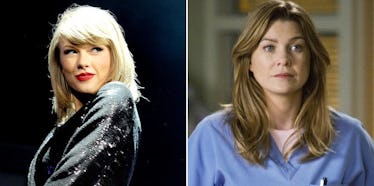 Here's What Ellen Pompeo Of 'Grey's Anatomy' Thinks Of Taylor Swift's Squad
Getty Images / ABC
Man, what does it take to get into a mega pop star's squad these days, am I right?
You'd think starring in said pop star's music video might get you an in, but apparently, the application process is a bit more rigorous.
Meredith Grey, aka actress Ellen Pompeo, was one of the 16 million famous ladies Taylor Swift featured in her "Bad Blood" music video.
The "Grey's Anatomy" star told Jimmy Kimmel Taylor is a known Meredith Grey fan — she even named her cat after Meredith — and reached out to Ellen about getting in the video.
But, Pompeo said she felt she was a bit too old to be included in T Swizzle's girl squad after the experience, even if she does, as she says, "have the ass of a 20-year-old."
Don't worry, she doesn't seem that broken up about it. She's too busy kicking ass and saving lives on ABC every week.
Citations: Ellen Pompeo Says She's Not Part of Taylor Swift's Squad (Cosmopolitan)