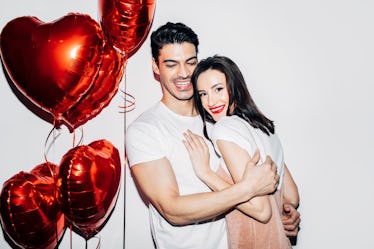 There's No Standard To How Much Sex You Should Have In A New Relationship, Experts Say
New relationships come with so many exciting perks and opportunities for growth, and TBH, regular intimacy is definitely at the top of the list. It's hardly a secret that single life often comes with many a dry spell. Now that you're consistently dating someone — and you've probably had the "what are we talk" — you might find yourself wondering how much sex you should have in a new relationship. Well, good news folks! The more sex you're having, the better.
It goes without saying that the sexual dynamic between every couple is different, and comparing the amount of sex you and your partner have to how much other couples have can be a slippery slope. Some couples have sex multiple times a day, while others are totally content with getting it on two to three times per week. However, when you're in the honeymoon phase and a relationship is still fresh, chances are you're probably going to be having way more sex than you might expect later on down the line. According to Alyssa Bunn, professional matchmaker at Tawkify and creator of Love + Co, there is definitely a connection between how much you lust after your new partner and how intense your feelings are.
"The more sex is on the brain, the faster and harder your mind is falling in love," Bunn tells Elite Daily.
We've all been there — so sprung over someone that making it through a single hour without imagining the next time you'll be wrapped around each other is virtually impossible. If your borderline obsession with banging your new bae has you wondering if everything you're feeling is normal, the answer is probably yes. According to Susan Trombetti, matchmaker and CEO of Exclusive Matchmaking, there isn't a specific amount that's right for everyone, but the amount should feel like "a lot" to you.
"You should be having a lot and not [be] able to keep your hands off of each other," Trombetti tells Elite Daily. "It establishes that you aren't settling for someone that looks good on paper because that attraction and lust are what separates you from your friends and roommates."
According to Trombetti, constantly craving your partner sexually and having that craving satisfied is what "bonds you as a couple and as lovers." If you're not feeling consistently excited to be intimate at a rate that feels substantial, then there's a chance the spark isn't as strong as it could be, explains Trombetti.
If you both feel like you can't keep your hands to yourself, then it's safe to assume that the amount of sex you're having is probably right where it needs to be for now. If you're still concerned that it's not or you'd like to be having more, then it may be a good idea to start initiating sex more often and see how your partner responds. However, if the source of your doubts about the amount of sex your having is stemming from the fact that one of your friends is having more or less sex in their relationship, then rest assured that intimacy is the farthest thing from standardized, so keep doing you.
Check out the "Best of Elite Daily" stream in the Bustle App for more stories just like this!