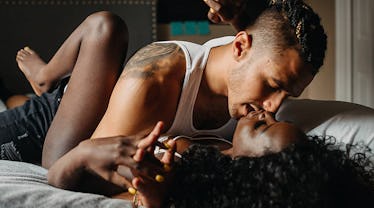 This Is The 1 Thing Sex Therapists Tell Their Clients, So Take Notes
The best sex advice I ever received (aside from always using protection—because, seriously, always use protection!) was simply to take my enjoyment just as seriously as I take my partner's. Seems pretty basic, right? But it's pretty incredible how backwards some of our earliest ideas about sex are. Sometimes, those messages about sex can be pretty, well, anti-sex, and even anti-pleasure. But to be fair, those messages are probably not coming from folks we would call experts. So, with that in mind, I can't help but wonder what the one thing sex therapists tell their clients to improve their sex lives might be.
All too often, the people shaping the way we envision sex early on can potentially misguide us, or cause some shame around the subject. Psychosexual and relationship therapist Kate Moyle agrees, telling Elite Daily, "[It's] because we have such a poor level of education on the whole when it comes to sex and our bodies, and especially the parts of our bodies that are associated with having sex. On top of this, when things go wrong with sex, it's piling more shame and embarrassment on a topic that is already quite taboo." That being said, what do the experts think we need to know, or to unlearn, to really improve our sex lives? To answer that, I reached out to three sex therapists. While they all offered different bits of advice, they're all things we should take on board — and to the bedroom — ASAP. Here's what they had to say.