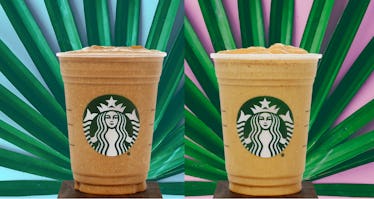 Starbucks' Protein Blended Cold Brew Is Packing The Protein, So Hope You're Hungry
If you don't have time to make breakfast, Starbucks' new Protein Blended Cold Brews may be all you need to fill up in the morning. It's hard enough to roll out of bed and get ready for work (read: I'm not a morning person). For me, making breakfast is totally off the table. I may grab a granola bar to hold me over until lunch. For the most part, whipping up an early morning bite to eat just isn't my style. So, exactly how much protein is in Starbucks Protein Blended Cold Brew? Don't worry about breakfast, because these new brews have you covered.
Starbucks' Almond Protein Blended Cold Brew contains 12 grams of protein. Whereas the Cacao Protein Blended Cold Brew has 10 grams of protein. The Protein Blended Cold Brews are only sold in grande-sized cups, according to Starbucks. So, that's anywhere from 10 to 12 grams of protein per 16 ounces of cold brew. According to the Harvard School of Health, male adults, ages 19 and up, should aim to eat 56 grams of protein per day and women 46 grams of protein.
One 16-ounce serving of either of Starbucks' plant-based (made from peas and brown rice) Protein Blended Cold Brews won't be enough to reach your daily intake goal, but it can help. If you're really all about that protein consumption, you could order two. Or, you could opt to add in an extra 7-8 grams of protein to the cold brew. A second protein packet is available upon request. Just ask your barista. Depending on which drink you add the second helping of protein to, you could be sipping on 17 to 20 grams of protein in your grande-sized cup.
Protein may remind you of going to the gym and bulking up. Despite the bodybuilder image that comes along with protein, the nutrient is good for you. (Just like milk, it does the body good.) Protein is made up of amino acids and is the foundation for bones, muscles, skin, blood, hair, nails, and more, according to WebMD. If you want to keep yourself in tiptop shape, protein is just one of the ways you can do that.
According to Starbucks, the Almond Protein Blended Cold Brew and Cacao Protein Blended Cold Brew are made up of certified vegan ingredients. This is a first for Starbucks. Although, because the drinks are made using shared equipment, they can't be labeled as 100 percent vegan.
If you drink an Almond Protein Blended Cold Brew and Cacao Protein Blended Cold Brew for breakfast and are still hungry, by all means, grab something else to eat. The Protein Blended Cold Brews are not intended to be meal replacements, but rather a supplement to your morning cup 'o joe. Starbucks is taking note of customer trends, which is why they decided to roll out a plant-based, protein-enriched cold brew coffee options. These drinks are only around for a limited time and while supplies last. If they do well, perhaps Starbucks will consider keeping these drinks around for an extended period of time or even adding them to the permanent menu someday.