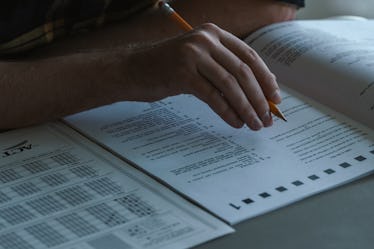 Netflix's College Admissions Scandal Doc Is Way More Dramatic Than Expected
Netflix
In March 2020, Tiger King signaled a brand-new era of dominance for Netflix. For his next subject, director Chris Smith — who is also known for docuseries like Fyre, on the failed Fyre Festival — takes on one of the biggest scandals in recent memory. "Operation Varsity Blues," often referred to as the "2019 College Admissions Scandal," sent high-profile actors, business moguls, and more to jail for a scheme to get their kids into prestigious universities. But how much of Netflix's Operation Varsity Blues is real footage? The new documentary mixes real and re-enacted scenes in a way that makes it extra dramatic.
Warning: Spoilers for Operation Varsity Blues: The College Admissions Scandal follow. For those who aren't aware, 33 parents were charged with illegally bribing school officials to admit their kids at high-profile institutions, from East Coast Ivy Leagues like Yale to prestigious West Coast schools like the University of Southern California. The story gained massive attention because some of those parents were household names, including Felicity Huffman and Lori Loughlin.
That means many who tune into the new Netflix doc may already be familiar with the story, but even so, the footage may be surprising. The documentary is filled with scenes featuring William "Rick" Singer, who is at the scandal's center. For almost a decade, he ran a for-profit company to "help kids get into colleges," which facilitated fraudulently getting these kids into colleges. In March 2019, Singer pleaded guilty to the charges associated with the scandal and awaits trial.
But it turns out, a lot of this stuff is re-enacted. Some of it is real, like the news clips displayed. The footage of Singer outside the courtroom an hour and 26 minutes into the doc is pulled from real life. Anything watermarked from PBS, ABC, CBS, or local news channels around Stanford, for example, are real.
But those bits are few and far between. The bulk of the footage, especially in the early parts of the doc, is all reenacted. Actor Matthew Modine (who Netflix fans will remember as Dr. Brenner from Stranger Things) plays Singer. The scene of Singer offering "his side door" for $1.2 million is (as the documentary makes sure to state) a "recreation of the wiretap transcripts released by the U.S. government." Further, these scenes aren't necessarily word-for-word re-enactments of the transcript; they were condensed for time and clarity.
These scenes are meant to help the viewer understand just how brazen a scheme this was. The documentary combines them with real-life footage of kids getting into college, anchoring what a huge deal acceptances are nowadays. But it's also a reminder to stay alert and not assume that everything you see in a documentary is the real thing.
Operation Varsity Blues: The College Admissions Scandal is currently streaming on Netflix.