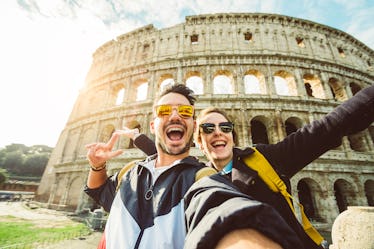 17 Brides Reveal The Overall Cost Of Their Honeymoon, & OMG
Close your eyes and imagine your dream honeymoon. Were you backpacking through Europe, or relaxing on a pristine beach surrounded by cerulean waters? While both options might sound pretty amazing, there's one thing they have in common: They aren't cheap. And while every vacation can be made more affordable by using your judgement wisely, asking yourself "How much does a honeymoon cost?" in advance might motivate you to start stacking your coins. Because spoiler alert: The average honeymoon will set you back a pretty penny.
According to The Knot, the average honeymoon will probably cost you around $5,342. "80% of couples spend more on their honeymoon than they would on just any old vacation," writes The Knot, stressing that most of your budget will go to lodging. "While the average spend is a tally of all expenses (including transportation, accommodations, meals, shopping, and attractions), travel and lodging take up nearly 80% of the total cost. Couples will shell out an average of $1,565 for travel (think: round-trip international airfare) and spend an average of $2,635 on lodging." Remember: This is just an average, so while it's definitely possible to spend less on yours, you could spend a whole lot more than expected if you don't plan in advance.
While these numbers are a helpful guideline, do they really reflect people's personal experiences? A redditor asked the wedding planning subreddit, and their answers were insightful.