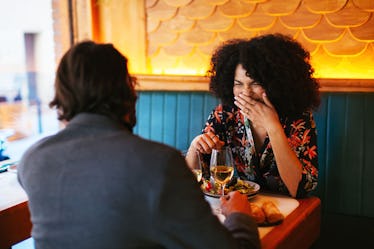 Here's How Much It Costs To Hire A Matchmaker, & It Might Surprise You
Dating is hard. Sure, it can also be a lot fun — you meet new people, have new experiences, and maybe even a little romance — but most of the time, hard. And after a while, that can start to wear you down, and the negatives might feel like they outweigh the positives. But if you're serious about finding a partner, and the apps and set-ups just aren't getting the job done, it may be time to consider something a little more old-school: A matchmaker! I know what you're thinking: "How much do matchmakers cost?" Good question, and the answer is... it depends! I reached out to a dating coach and to a matchmaker to find out what you can actually expect to spend when you hire the big guns — romantically speaking.
When Alessandra Conti, celebrity matchmaker for Matchmakers in the City and Erika Ettin of A Little Nudge broke down the fees for their matchmaking and coaching services, respectively, I was honestly a bit surprised. There was a bit of sticker shock — that is, until they explained all they do for their clients, and it became clear that you're getting exactly what you paid for.
So, if you're ready for love and want the guidance of a seasoned professional, it's time to start saving up. Besides, you can't really put a price tag on true love, can you?
Well, I guess technically you can. Here's what experts say that looks like.