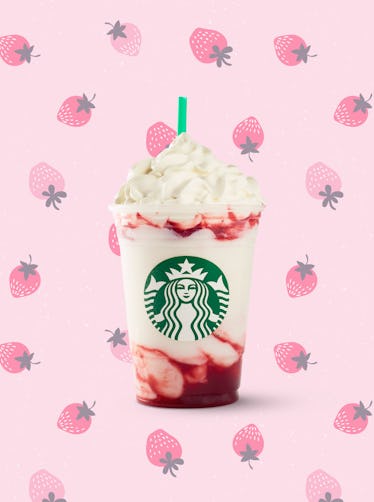 Starbucks' Serious Strawberry Frappuccino Is Perfect For Any Time Thanks To This
Starbucks
The middle schooler in me is screaming right now, because Starbucks has officially announced that they're adding a new version of their strawberry Frappuccino to their roster. Personally, my mom was always worried about how much coffee I was consuming as a young child. It was definitely not OK for me to drink a ton of caffeinated beverages back then, and I still try to avoid caffeinated drinks as much as I can to this day. So if you might be curbing your caffeine intake, you might be asking yourself how much caffeine is in Starbucks' Serious Strawberry Frappuccino?
If you're looking to find a caffeine buzz in this drink, this is not the frappuccino for you. The new Serious Strawberry Frappuccino will not contain a single drop of caffeine, according to the coffee roasting company. I lived off of non-caffeinated drinks while I was in middle school in the hopes of not stunting my growth, very much like Cher Horowitz in Clueless. So in an effort to keep my growth in check while still looking like a "cool girl" at Starbucks during lunch, I gravitated towards the strawberry flavored Frappuccino drinks.
Now when I indulge in a Frappuccino beverage, getting the strawberry flavored one is nostalgic for me. But that doesn't mean that I don't want some variety when it comes to my order. Which is why I was so excited to hear that Starbucks is adding a completely different kind of strawberry Frappuccino flavor to their menu.
The new Serious Strawberry Frappuccino is unlike anything the popular coffee shop chain has done before. This Frappuccino is magenta colored — which is totally trendy right now because I don't think I've ever met anyone that doesn't love anything in millennial pink. This is a layered drink too, so the flavors just keep building on top of each other to combine into an insanely delicious treat.
Here's the low down: the drink starts off with a swirl of strawberry fruit puree, followed by the Starbucks brand classic Strawberries and Crème Frappuccino. But the company has reinvented the Strawberries and Crème flavor, so it'll taste even better than what you remember. The drink is topped off with another layer of strawberry puree and finished with a garnish of heavenly whipped cream. Now this is my idea of the perfect weekend treat to cap off a tiring work week.
The new drink will become a part of Starbucks' permanent menu, so no need to worry if you're not feeling like picking up one of these Serious Strawberry Frappuccinos right now. The price point is also in the same range as the other Starbucks Frappuccinos as well. A grande (or medium, if you don't speak Starbucks) sized drink will cost you anywhere from $4.95- $5.45. So you will definitely not be breaking the bank to get your hands on this tasty drink.
You'll be able to purchase the new Serious Strawberry Frappuccino starting on Tuesday, June 5. I personally prefer to drink a cold brew in the morning, but I will definitely be looking to give this new drink a shot in the afternoon.
I've had a serious sweet tooth lately for some reason, so this announcement from Starbucks could not have come at a better time. I imagine that drinking the Serious Strawberry Frappuccino is basically like inhaling a piece of strawberry shortcake through a straw. So this is overall a great new addition to the already amazing Starbucks menu, in my humble opinion. This drink is the absolute perfect summer drink, and I'm so excited to enjoy it throughout the season — and let's be honest, well into the colder months of the year.