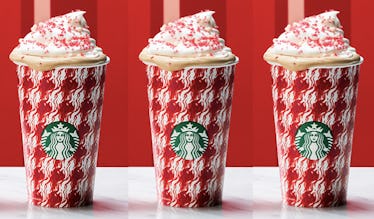 Starbucks' Peppermint Mocha Will Keep You Energized This Holiday Season
Now that Starbucks' holiday drinks are officially available to kick off the season of joy, you might find yourself wondering if these seasonal coffee sips will also give you an energy boost. With tempting flavors like Toasted White Chocolate Mocha and the Gingerbread Latte, it can be difficult to decide what seasonal beverage strikes your fancy when you're ordering. Never fear, though, because the Peppermint Mocha is a classic go-to that will fulfill your holiday (and pick-me-up) needs. Still, you may be asking, "How much caffeine is in Starbucks' Peppermint Mocha?" Well, worry not, because this drink will give you the jolt you need to check off everything on your holiday to-do list.
If I'm being honest, the caffeine content of my morning drink is most important to me. Of course, flavors and aromas of the holiday season are very welcome changes to my regular ol' coffee, but it still has to get the job done when it comes to waking me up in the morning. Before I get to what caffeine count the Peppermint Mocha is rocking, I'll let you know that a Starbucks' Pike Place Roast Coffee is packed with a whopping 310 milligrams of caffeine in a grande size, per the Starbucks website.
In comparison, a grande Peppermint Mocha's 175 milligrams of caffeine, per the Starbucks website, might seem a little low, but it's still more than half of the Pike Place caffeine count.
For a little more context, a grande Starbucks Caffé Americano, which is made with expresso shots and hot water, contains 225 milligrams of caffeine, and a 12-ounce tall size of the sip comes in at 150 milligrams of caffeine, per Starbucks' website. So, when you look at the 175 milligrams of the sweet morning nectar, aka caffeine, in a grande Peppermint Mocha, it really doesn't seem too shabby.
Since the Peppermint Mocha is made with signature espresso, sweet mocha sauce, steamed milk, and peppermint-flavored syrup, you can always pay a little bit more for for an extra espresso shot to really catch a caffeine buzz in the morning. Fair warning, Starbucks' espresso shots have 75 milligrams of caffeine, per the website.
While I am always down for a Peppermint Mocha when the temperatures drop and Christmas nears, there are also other seasonal drinks at the 'Bucks that will warm you up in festive fashion. As of Friday, Nov. 2, six seasonal drinks returned to Starbucks stores along with four new holiday cup designs.
The new holiday cups are seriously so pretty, and I wouldn't be mad at getting any one of these gorgeous designs. Although, I think I'm partial to the Flora design with mint-green leaves and red berries. The holiday-ready drinks you can fill your festive cup with include:
Peppermint Mocha
Toasted White Chocolate Mocha
Chestnut Praline Latte
Caramel Brulée Latte
Gingerbread Latte
Egg Nog Latte
If you want to get the most pick-me-up energy, though, stick with the classic Peppermint Mocha, because a grande size of each of the other five seasonal drinks will give you 150 milligrams of caffeine, per Starbucks' website. Honestly, though, I don't think you can go wrong with any of these options. Whichever drink you choose to start your day (or pick you up during the afternoon slump) will give you a boost with some seasonal cheer to boot.