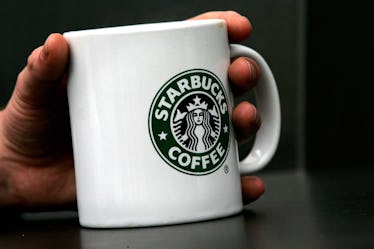 Starbucks' Newest Espresso Sip Will Definitely Keep You Fueled All Day Long
Daniel Berehulak/Getty Images News/Getty Images
By now, it's essentially common knowledge that Starbucks will someday take over the world entirely, one street corner at a time. The company's latest store has finally made its way all the way to Italy, as Starbucks first Italian location right in the middle of Milan is set to open Friday, Sept. 7. To honor the new store, the chain is celebrating by introducing a new Italian-inspired drink called the Cordusio. And since caffeine is totally and utterly vital to my daily life, I couldn't help but wonder: how much caffeine is in Starbucks' "Cordusio" beverage? Like most caffeinated Italian drinks, this baby'll definitely keep you up and running.
My 'Bucks order tends to be pretty basic: a Grande Starbucks Iced Coffee with light ice and extra room for soy milk. It's easy, boring, and undeniably delicious. I may, however, have to branch out and try a Cordusio the next time I'm there, because the description sounds unreal. According to the Starbucks website, the Cordusio is entirely espresso-based, and it boasts super dark and rich flavors. The espresso is blended with light, creamy whole milk, as well as sweet mocha sauce. It's sprinkled with a dash of cocoa powder, and let me tell you, it's my ideal midday treat. Not only is it straight-up delicious, but the "short" 8-ounce sip will give you a striking boost of 155 milligrams of caffeine, thanks to an "extra espresso shot." That's about 80 milligrams more than the 75 milligrams of caffeine in a Tall Cappuccino, and it's also 80 milligrams more than a "short" 8-ounce Cafè Americano. This is an incredibly caffeinated sip, and I think everyone can agree that it's the new morning MVP.
Wow. That should definitely wake you up after a long night out, am I right? Luckily, Starbucks is celebrating its new Italian location in several different countries. Yep, you heard that correctly, and get ready, because the Cordusio will be sold at participating Starbucks locations throughout the United States, Mexico, Peru, and Europe, as of Thursday, Sept. 6, while supplies lasts. Its exact availability hasn't yet been revealed, but it's definitely a limited-time gift from the heavens. So, make sure to get on that ASAP... you definitely won't regret it.
Where did they derive the name Cordusio, you might ask? Well, it turns out that the Cordusio is named after Italy's first Starbucks location, which is commonly known as Piazza Cordusio. To give you an idea of the general location, it's right in the middle of central Milan, which is constantly bustling with fashionable shoppers, wealthy travelers, and high-end diners. It's right near the Milan Cathedral, as well as La Scala opera house, and if you don't think I'll be sipping this with my pinky up, you don't know me at all. In fact, I may actually need a bedazzled swizzle stick to stir this baby properly.
I'm always down to try a new Starbucks drink, but this new celebratory beverage sounds like all I could ever want. It's loaded with caffeine, it has an impressive blend of flavors, and TBH, it sounds fancy AF. BRB, I need to put my fancy pants on. Sipping this glorious beverage is definitely a black-tie affair, in itself.