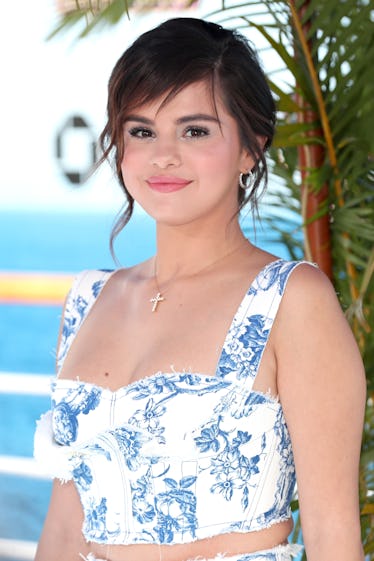 Selena Gomez Designed A Fanny Pack With A Bunny On It & I'd Hop To Buying It
Christopher Polk/Getty Images Entertainment/Getty Images
Selena Gomez is a singer extraordinaire, but she's trying her hand at fashion design now, too. Gomez has been working with Coach on a new collaboration and I need to know: How much are Coach x Selena Gomez bags? You might want to start saving up.
Gomez and Coach have worked together before; the singer has been a brand ambassador for the brand since 2016 and is usually front row at their fashion week shows. Gomez then created a capsule collections of handbags for Coach in 2017. What makes the newest collection so exciting and different, though, is that it includes accessories and clothing.
"I'm so proud of the collection. What I love most about working with the Coach team is that they just know how I dress. Everything felt authentic from the beginning," said Gomez to Vogue of the new pieces. Coach's creative director, Stuart Vevers, worked closely with the singer on the collab, saying, "I love working with Selena because she brings her strong point of view to the design process. I wanted all of the pieces to reflect her style and her charm—and to feel effortless." Much of the clothing and bags feature an adorable rabbit sketch and feature the phrase, "Not perfect, Always me," an ideal which Gomez has truly embraced.
Much of the collection is available to purchase now while the rest is on pre-order, but it's all available to look at!
Selena Belt Bag With Bunny
One of my favorites from the collection is this black leather fanny pack with the collab's signature bunny logo.
The fanny back must be one of Gomez's favorites too because she 'grammed herself using it. There's also a pink belt bag available ($195; coach.com).
Selena Cardigan
This grandma-inspired cardigan is my personal favorite piece of clothing from the line. I'd wear it over jeans, leggings, dresses, or maybe even as a dress!
Selena Knit Hat with Bunny
The oversized sweater would look bomb with this pastel bunny beanie. There's also a matching Selena Knit Scarf with Bunny ($195; coach.com).
Selena Slip Dress
The pale lilac color on this slip dress is everything.
Selena Trail Bag in Colorblock
This neutral-toned color block bag will go with literally any outfit.
Selena Foldover Crossbody Clutch With Crystal Embellishment
Or try more of a statement purse for a stand-out look.
Selena Bunny Sweatshirt
OK this sweatshirt needs to be in my fall wardrobe.
Selena Heart Bag Charm
If your bank account's on a budget and you don't want to shell out the dough for one of Gomez's handbags, you can still get a bag charm to add to any other purse you already own. There's a black Star Bag Charm ($50; coach.com), a Bunny Bag Charm ($75; coach.com), and a silver Bow Bag Charm ($75; coach.com), just pick your favorite!
Selena Bunny Sticker
This cutesy leather sticker can also be applied to any bag, or even to your favorite notebook!
I could probably resist buying something form the Coach x Selena collection, but why would I want to?