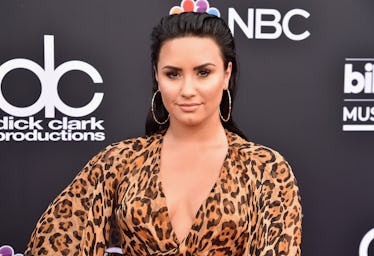 Demi Has Over 20 Tattoos, & Each 1 Has Such Deep Meaning
Jeff Kravitz/FilmMagic, Inc/Getty Images
Harry Styles, Ariana Grande, and Justin Bieber are just some of the celebrities known for having huge tattoo collections. Each of them has at least 40 tats, and by the looks of it, they're not stopping any time soon. Every time fans see them, they spot another one. Based on her regular Instagrams at the tattoo parlor, Demi Lovato is solidifying her spot on the list of celebs who can't stop, won't stop getting tatted too. Fans curious to find out how many tattoos Demi Lovato has will be surprised to hear the answer.
Lovato's tats are usually symbolic, many reflecting her personal experiences with mental health, while others are tributes to her late family members and pets. Since a lot of her tattoos are visible, Lovato often shares the meanings behind them on social media in order to help fans understand them. She also has a few pieces that aren't easily seen, making them a total mystery to her followers.
In a 2010 interview with Hollywood Life, Lovato revealed she got her first tattoo at the age of 16. Her collection has grown so much through the years, and right now, while it's impossible to pin-point exactly how many tattoos she has, it's clear she has over 25 in 2020. Each one is significant and tells a part of the star's life story, and you can read about some of them below.