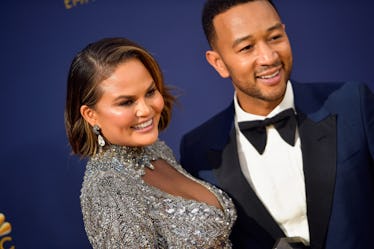 Chrissy Teigen Just Revealed How Many Kids She Wants With John Legend
Matt Winkelmeyer/Getty Images Entertainment/Getty Images
Sometimes, late at night, when I'm sending my affirmations into the universe for the following day, I think about what I desire most. Usually, it has something to do with Chrissy Teigen. I want Chrissy to be my best friend. I want Chrissy to braid my hair. I want Chrissy to come over and show me how to make tacos and laugh about celebrity things. My latest thing is I wish she and John Legend would have more kids. (Let's be real, those babies are perfect.) How many kids will Chrissy Teigen and John Legend have? Based on a new interview she did with People magazine, the answer could be "a ton."
Thank you, universe.
Fans have always been obsessed with Legend and Teigen but their adoration for the family definitely doubled down when they welcomed their first child, Luna, back in 2016. Two years later, in May 2018, the gang kept growing with the arrival of baby Miles. According to Teigen, it's likely they won't stop there. "John wants however many kids I want," she said. "That's the good thing with John. He is down for it."
Oh, so that's the good thing about him. (Ha. Ha.)
If your hopes are way up like mine, slow your roll. Teigen and Legend aren't ready to keep expanding the fam just yet. "Are we ready right now? No!" she said. But when they are, everybody hang on. Teigen added, "I really love having two, but I think when I'm 70, I'll look back and say, 'Oh, I wish I had more.' I can't see myself regretting having a ton of kids."
Teigen also revealed a pretty incredible detail about Luna and Miles. She explained, "Miles was actually made at the same time as Luna. They were sharing the same little petri dish together. It's crazy." This comment is in reference to her and Legend's journey with in vitro fertilization. In fact, there are more embryos left "on ice" should they actually decide to have more babies one day. As far as conceiving naturally, Teigen said, "It'd be awesome."
She continued,
I can't even fathom it because it's never happened to me. I'm totally fine with it not happening because I've been in a position where we've been able to control it—the timing and scheduling. It would be chaos otherwise—but I love chaos too.
One thing that's noticeably changed for Teigen after having kids is the way she cooks. While she's famous for her incredible personality, modeling, and her gig as host on Lip Sync Battle, cooking is really her bread and butter. (No pun intended.)
In her latest cookbook, Cravings: Hungry for More, Teigen said, "I was more accepting of cutting some corners, and that has to come from having two kids now. I was wanting to put together a meal that John and I could eat together but not be exhausted from making it." She added, "A lot of the recipes are a bit quicker and have fewer ingredients. It's like, 'Wow, you can tell she's at a different point in her life when she did this.'"
Chrissy, you can do no wrong in my book. Standing by for a ton more babies and a ton more taco recipes.