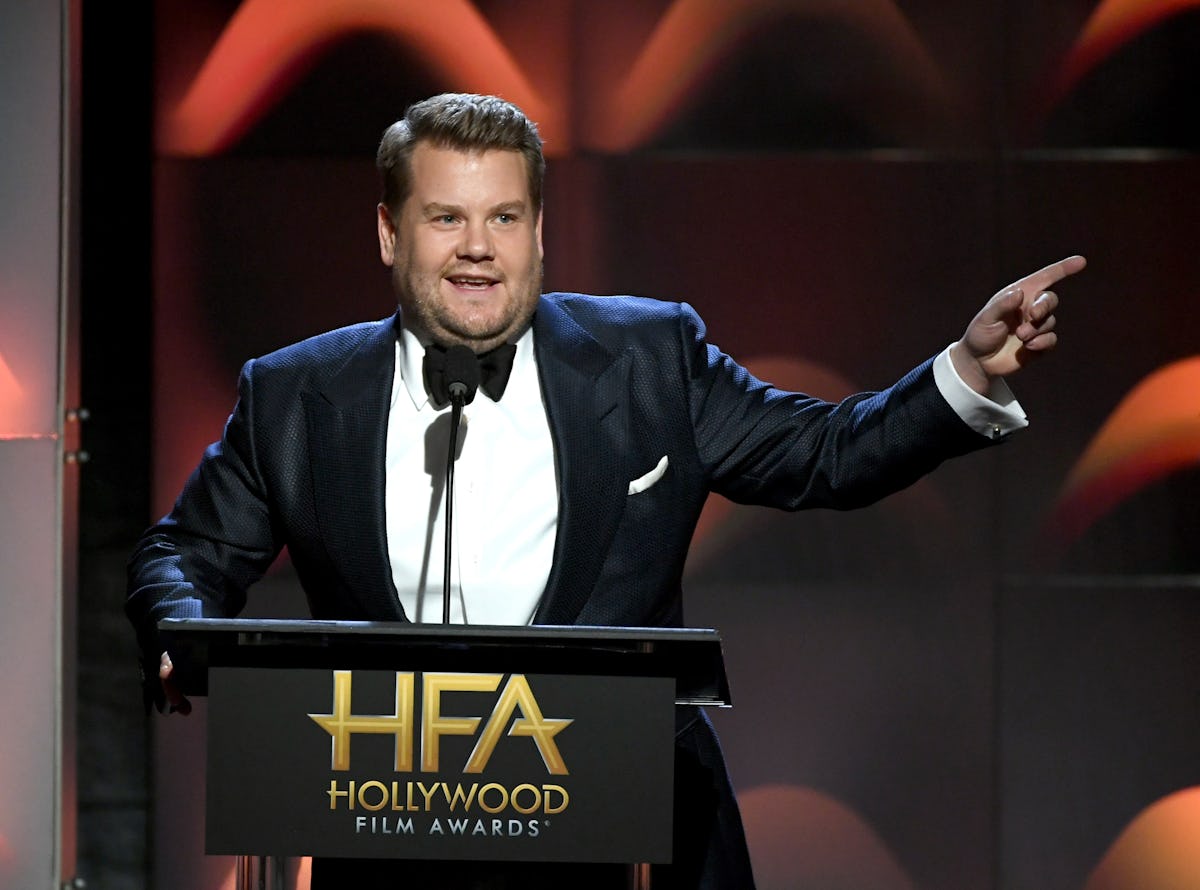 These Photos Of James Corden & His Kids Prove He's Dad Of The Year
Kevin Winter/Getty Images Entertainment/Getty Images
I am SO excited for James Corden to host the 2018 Grammy Awards on Jan. 28! After all, he's hilarious on The Late Late Show, and I am a huge fan of his "Carpool Karaoke" recurring musical series. But did you know that the funny guy and accomplished talk show host is also a happily married family man? Those lucky, lucky kiddos, right? I mean, can you even imagine having this guy as a dad? And I bet you're now all wondering this: Just how many kids does James Corden have? Well, the answer is... three! That's right, James and his TV producer wife Julia became officially outnumbered when they welcomed their third child on Dec. 12.
The couple met back in 2009, after being introduced by their mutual friend, Mamma Mia actor Dominic Cooper. They started their family in 2011 when their son Max was born, then became a family of four a few years later in 2014, when daughter Carey came into the picture. Now, after adding a second little girl to the mix just before Christmas, James is the proud patriarch of a beautiful party of five. He announced the news over on Twitter, when he sent out an adorable message about not be able to stop smiling.
Total #DadGoals.
Just a few days later, the proud papa was at it again, sharing his contentment via another tweet, this one about how happy he was to just be home chilling with his fam while watching a romantic Nancy Meyers flick.
Personally, I would have gone with Love, Actually. But Corden sounds ridiculously happy so whatev. Meanwhile, it seems like the transition from a family of four to a family of five is all pretty smooth for the British comedian. Of course, there was one funny little story that he shared on The Late Late Show following his newest edition's birth. Apparently, since the little bambino decided to arrive a few weeks before her due date, James and Julia didn't have a name picked out for her yet.
"The doctor asked about a name and I don't know why I said it... I looked at the doctor and I said, 'We're going to call her Beyoncé.' My wife did not think that was funny," Corden joked. "Then a nurse went to the other side of the room and started filling out a form with the name Beyoncé and I had to go over to her and go, 'Uh, excuse me, there is only one Beyoncé.'"
True story. Although, Beyoncé Corden actually has a nice ring to it, and they totally could have called her "BC" for short which is pretty damn cute, if you ask me.
Anyway, besides that one little faux pas, James is pretty much the perfect, hand-on father. He spends lots of time with his kiddos playing the park. He's been spotted shopping with his son Max out in Los Angeles. And with daughter Carey at a Malibu fair. He even been known to crush the school drop-off duty game.
Pretty impressive. I mean, does this guy ever sleep? He seems to host pretty much everything on CBS these days — from The Late Late Show to the 2016 Tony Awards. And now he's returning to host the Grammys for the second year in a row. Of course, Corden doesn't just spearhead these awards shows — he also takes home prizes. He won a Tony in 2012 for his leading role in One Man, Two Guvnors, a Critic's Choice Award for Best Talk Show in 2016, Emmys for both Outstanding Interactive Program and Outstanding Variety Special for The Late Late Show in 2016, and another Emmy Award for Outstanding Special Class Program in 2017 for hosting the Tonys.
Be sure to catch him when the 60th Annual Grammy Awards air Sunday, Jan. 28 at 7:30 p.m. ET on CBS.