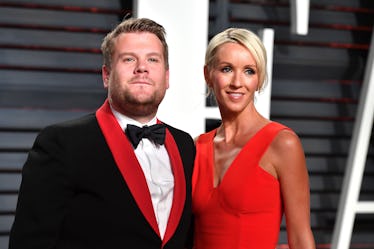 James Corden & Julia Carey's Love Story Will Seriously Melt Your Heart
Pascal Le Segretain/Getty Images Entertainment/Getty Images
For all of you who are harboring secret crushes on The Late Late Show's James Corden, I have some bad news for you: He's very married to a very beautiful woman. Bummer, I know. While the 2018 Grammys host keeps his personal life pretty low-key, there are a few things about his wife that we do know, and I'm just going to say it: She sounds awesome. Like, a total catch. So, who is James Corden's wife? What does she do? And how did Corden get lucky enough to marry her?
Sit back and relax, friends. Let me walk you through James Corden and his wife Julia Carey's relationship (so that we can live vicariously through them, obviously). But first, let's find out a little bit more about Carey herself.
She's a successful actress and TV producer.
According to The Sun, Julia Carey "previously started her career in the entertainment industry as an actress," featuring in TV shows such as A Bunch of Fives, Enemy at the Door, Within These Walls, and Wings, but has most recently been working as a producer, "working within companies in Los Angeles in creating shows." So long story made very short: girl is a go-getter.
Oh and work, she does.
She met James Corden through a mutual friend.
While we're all busy swiping right, Julia Carey found her soulmate very differently. Actor and Preacher star Dominic Cooper was apparently a friend to Carey's, and he just happened to also be James Corden's flatmate when he was living in London. The two started dating and the rest is history.
Since dating Carey, Corden was always very vocal about how in love with Carey he was. Back in 2012, when he won a Tony for Best Actor for his role in the Broadway play One Man, Two Guvnors, his speech was centered around her. He got on stage and, in his speech, he said,
My girlfriend Julia gave birth to our son five days before we started rehearsals ... She's my baby mama and I can't wait to marry her. Seriously, I would not be holding this if it wasn't for her. She made me say 'us' instead of 'I' and 'we' instead of 'me' and I love her. Thank you very much.
Julia, you've got yourself a keeper.
She and James Corden have three children together.
Add "mom" onto Julia's list of incredible jobs, because she's got three beautiful little babies! On Dec. 12, 2017, Corden took to Twitter to let the world know that his two children, Max and Carey, will finally be meeting their little sister. Because Carey gave birth unexpectedly, Corden called up his buddy Harry Styles to fill in for him on The Late Late Show, to which Styles humbly agreed to.
And, while filling in, Harry shared the good news but also let the world know that Harry's got jokes:
Because Carey's labor was so early, Corden revealed that, after two days of his daughter being welcomed into the world, they still had zero clue what her name should be. When Corden returned to The Late Late Show, he admitted to the audience that he had an idea for a name, but his wife shot him down REAL quick. He said,
We still haven't chosen a name for her yet ... We don't know what we're going to call her! After the baby was born, I was crying my eyes out, the wife was crying, the baby was crying, and the doctor asked about a name and I don't know why I said this, but I looked at the doctor and said, 'We're going to call her Beyoncé.' My wife did not think that was funny.
But in all honesty, why not Beyoncé?
She is, after all, Hollywood royalty:
Julia Carey, bravo to you for being a kickass business woman, an awesome wife, and undoubtedly the coolest mom. James Corden is one lucky guy.