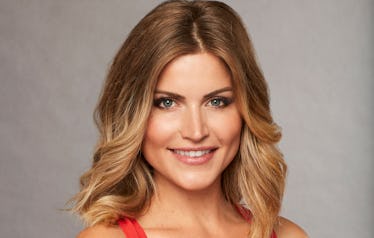 This Contestant On 'The Bachelor' Is A Single Mom & Her Son Is So, So Adorable
ABC/CRAIG SJODIN
Rejoice, Bachelor fans, because Season 22 of the reality competition dating series is nearly upon us. In less than a week we'll finally get to watch the 29 ladies vying for Arie Luyendyk, Jr.'s heart as they step out of those stretch limos and do their best to make a memorable mark in the span of approximately five minutes. This season's crop of contestants has already been revealed and one of them is Chelsea Roy, a single mom from South Portland, Maine. But how many kids from Chelsea from The Bachelor have? The real estate executive assistant is piquing #BachelorNation's interest.
Chelsea "goes out of her way to make a first impression on Arie," host and Bachelor insider extraordinaire Chris Harrison told PEOPLE in an interview where he revealed his "Top 5 Contenders for Arie's Heart." He added, "He is very taken by her. But he can tell she's holding back. She has a little bit of a secret. She will reveal it into the show." Consider us intrigued. What Chris Harrison says pretty much goes in our reality TV book, so we're listening. It looks like Chelsea might be one to watch in this competition.
Chelsea is clearly gorgeous (yes, we see it — the model is a ringer for Season 20 contestant Olivia Caridi), but she also stands out among the other 28 ladies since she's a mom to a 3-year-old son named Sammy. In the trailer for Arie's season, we can already see how that affects her approach to the show. "I'm making bold moves. Because being a single mother, I deserve more time than others," she states in an interview sneak peek. "I'm not a b*tch, like, that's the thing. I'm a mother. And I have to tell you guys straight up, I'm pulling Arie aside first," she tells the women. Unfortunately that doesn't appear to go over too well. We'll have to wait and see the drama that unfolds as a result of her straightforward remarks. Sometimes being direct isn't exactly embraced by other competitors when it comes to this series.
Hopefully, Chelsea's world outside of the confines of the Bachelor mansion is a little more drama-free. Roy's charming and scenic Instagram photos paint a pretty picture of an idyllic Maine lifestyle. Not only does the 29-year-old post artistic shots of New England, as well as the occasional selfie, she also shares endearingly sweet moments with her adorable young son.
Chelsea joins a history of Bachelor contestants who entered the dating competition as single mothers. Amanda Stanton, who appeared on Ben Higgins' season in addition to Bachelor in Paradise, is a mom to two little girls. Fan fave Emily Maynard already had daughter Ricki when she competed for Brad Womack's affections on Season 15 and won. After their engagement was broken, she eventually became The Bachelorette for the show's eighth season, where Arie fell for her and ended up in the runner-up spot, which brings us up to where we are now. It's evident that now-Bachelor Arie has been open to the idea of kids for a while, considering he appeared to be all-in with Emily five years ago. "I can't think of a better person to be The Bachelor than Arie and I've been hoping this day would come since Season 8 ended!" Maynard revealed to Us Weekly regarding Arie's Bachelor gig. "He's a gentleman through and through and all the girls on his season are lucky to have him."
Chelsea's ABC bio doesn't detail too much, though it reveals she has a "sweet tooth," tattoos of "simple wave lines on the side of my palms" on both of her hands, and considers "dead silence" her biggest dating fear. We look forward to getting to know her further when The Bachelor Season 22 premieres on Jan. 1, 2018. #JanuArie awaits.