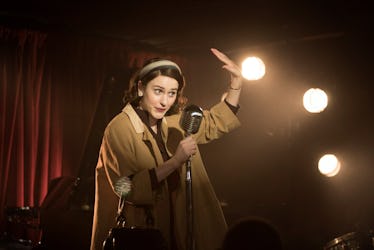 Here's How Many Episodes We Can Expect From 'Marvelous Mrs. Maisel' Season 2
Amazon Studios
We're still waiting for an official premiere date for Season 2 of The Marvelous Mrs. Maisel, but the hype around the Amazon Prime series is skyrocketing even with this note of ambiguity. With a total of 14 Emmy nominations, the series is a strong favorite to take home the Outstanding Comedy Series Emmy this year, but after the Sept. 17 ceremony, all eyes will be on the show's second season. When it comes to the busy end of the year, we have to plan out our binge-watching accordingly, so how many episodes of The Marvelous Mrs. Maisel Season 2 will there be?
Although there are no hints about when Season 2 hits Amazon, there's a strong likelihood that it will premiere around November 2018, a year after the first season launched. Basically, if you're making your way through Thanksgiving leftovers in your baggiest pair of sweatpants, there's a good chance that you'll have new episodes of Marvelous Mrs. Maisel to keep you company. Because we first met the witty Midge Maisel last November and many fans quickly fell in love with her comedic aspirations and the vibrant setting of 1950s New York, it only feels right that we revisit her at the same time this year.
The first season included eight hour-long episodes, which is the norm for most streaming TV shows nowadays. Seeing as shows rarely break tradition when it comes to episode count, it wouldn't be surprising if Season 2 also produces eight episodes. After all, that only solidifies fans' likelihood that they can get through a season over the course of a single weekend.
However, according to Variety, Amazon originally picked up the series with a two-season order and 18-episode commitment. This could mean that Season 2 actually has 10 episodes, and when Amazon renewed the show for a third season in May, Variety also reported that it would likely have 10 installments as well. The more Maisel the merrier, as far as I'm concerned.
As the Season 2 teaser is stuffed with visits to the Catskills, beauty parlor gossip, and road trips, 10 episodes seem essential to give every storyline the time it deserves. Thanks to the trailer, we now have a better sense of what to expect next season, but before the teaser's debut, creator Amy Sherman-Palladino revealed at the Television Critics Association's summer press tour, "We left Midge in a pretty triumphant moment. She's finally arrived into Mrs. Maisel, the stand-up comedian. I can't say a whole lot about where she's headed in Season 2, but good things can't last long."
Midge Maisel herself, aka Rachel Brosnahan, has also hinted about what her character experiences in Season 2. Nominated in the Outstanding Lead Actress in a Comedy Series category at the Emmys, Brosnahan told E! News:
She's got a new level of confidence, about stand-up specifically, heading into Season 2. She's feeling good, she's on a roll, I think she feels like she's arrived at her voice and she's excited to grow it from there... the worlds collide and bounce off of each other. Characters interact who have never interacted before, so almost anything we say is a massive spoiler.
No matter how many hours we get of The Marvelous Mrs. Maisel this year, it ought to be the perfect dose of quick conversations, enviable fashion, and Jewish humor. Season 2 of The Marvelous Mrs. Maisel will premiere on Amazon Prime later this year.