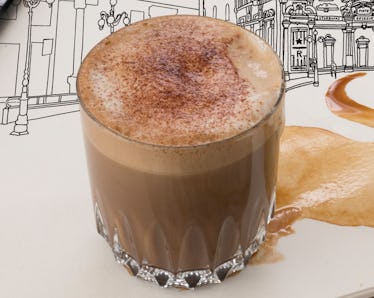 Starbucks' New European Espresso Drink Won't Be Here Forever, So Go Try It
Starbucks
If you haven't had your daily caffeine fix yet, right now is the perfect time to give Starbucks a visit. The coffee chain released a brand new espresso drink on Thursday, Sept. 6 called the "Cordusio," and you don't want to miss it. I know what you're probably thinking: "Espresso is espresso; what's the big deal?" Well, my friends, this isn't your typical pick-me-up. Instead, it's a celebratory beverage honoring Starbucks' first location in Italy — and you don't have forever to try it. If you're wondering how long Starbucks' "Cordusio" drink will be available, I'll fill you in on the details.
Unfortunately, the Cordusio will only be available for a limited time while supplies last, per Starbucks. I know, it's a bummer — but that just means you'll have to try one during your next Starbucks visit. Elite Daily reached out Starbucks about a specific date that the Cordusio will leave U.S. menus but did not hear back at the time of publication.
Luckily, you won't even have to be in Italy to give it a go. The new espresso beverage is available in Starbucks locations throughout the United States, Mexico, Pero, and Europe. In other words, you have no excuse not to try the caffeinated sip during your next coffee run (unless, of course, you don't live in any of the countries that are offering it).
Even if you did hop on a plane to give a try, I wouldn't blame you. It sounds absolutely delectable (and looks chic AF).
Now that you know when and where to get the Cordusio, let me tell you what it's made of. According to Starbucks, the new beverage includes an extra shot of espresso (hello caffeine) and is mixed with steamed whole milk and mocha sauce. It's also topped off with cocoa powder, which gives it a chocolatey look that you can admire in the photo above. As someone who loves anything involving espresso and chocolate, I'm excited to give this drink a try.
If you feel the same way, go ahead and start your morning with it. Based off the amount of caffeine in the Cordusio, it's sure to wake you up. An 8-ounce "short" cup of the bev' will provide you with 155 milligrams of caffeine, and a grande will give you a whopping 315 milligrams of caffeine. If I drank one of those in the morning, I probably wouldn't be looking for an afternoon pick-me-up around 2 p.m.
Aside from the Cordusio's ingredients, flavors, and caffeine level, the beverage has an important title. It was named after the location of the new Starbucks Reserve Roastery in Milan, Italy, known as Piazza Cordusio. Starbucks introduced the drink in other countries so customers could honor Italy's brand new coffee spot at their own convenience. (Don't get me wrong: I'd love to visit Milan, but I don't think that's in the budget right now.)
However, after looking at the photos of the Starbucks Reserve Roastery in Italy, it's definitely going on my bucket list. Between marble countertops, mosaic floors, specialty coffee orders, a cocktail bar, and more, it seems like the perfect vacation spot for a coffee lover (like me).
In the meantime, I'll be sipping on a Cordusio and checking on plane tickets to Italy.