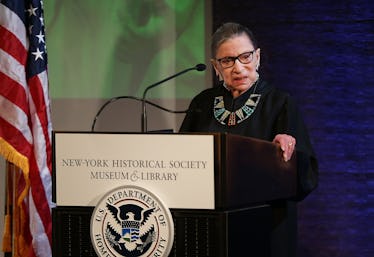 Ruth Bader Ginsburg Has An Idea Of How Long She'll Stay On The Supreme Court
Spencer Platt/Getty Images News/Getty Images
One of the Supreme Court's most iconic figures may yet have some time left in her tenure. Thanks to remarks on Sunday, July 29, the world now has some clues as to how long Ruth Bader Ginsburg will serve as a justice on the nation's highest court. Ginsburg, now in her 80s, hinted that she thinks she has at least a few years left on the bench.
"I'm now 85," Ginsburg said at an event in New York on Sunday, according to CNN. Citing her former fellow Justice John Paul Stevens, she added, "he stepped down when he was 90, so think I have about at least five more years." Next month will mark her 25th year on the court after joining in August 1993.
The octogenarian has voted on some of the most consequential decisions of the last few decade, including cases about equal rights, gay marriage, and abortion rights, to name a few. Ginsburg has been seen as a reliable liberal vote on a panel that is now tilting conservative. With Trump's nomination and the subsequent confirmation of Justice Neil Gorsuch in 2017, the court was given a push to the right. Now, after Justice Anthony Kennedy announced his retirement in June, there is another opportunity to fill that seat with a conservative vote. And on July 9, Trump made the first steps towards doing so, nominating conservative Judge Brett Kavanaugh to fill the Supreme Court seat. The judge's confirmation is still pending in the Senate.
In the meantime, the court's makeup, and questions of how long each justice, including Ginsburg, might stay on it have come in for more public attention.
On Twitter, some fans of the "Notorious RBG" were cheering. "Five more years? 10 more years?" tweeted Hill Reporter Co-Founder James Kosur. "Clone her and nominate #RuthBaderGinsburg version 2.0 to the bench. I'm good with any of those options."
Making jokes about her impressive health, some cited a workout Ginsburg did for a March episode of The Late Show with Stephen Colbert. (In case you're wondering: Ginsburg said her workout music generally consists of opera recordings.)
A few users even offered up their organs for RBG, presumably as a joking show of support to keep the justice going strong.
But others were concerned about her response. "Ruth Bader Ginsburg may stay on the court until she is 90," tweeted science writer Alex Berezow. "I would say this about a conservative justice as much as a liberal justice: This isn't how a judicial system in a democracy should operate."
Others, who clearly weren't fans of RBG, were apparently hoping that her tenure wouldn't last that long.
Justices serve as long as they maintain "good behavior," per the U.S. Constitution, so their time on the court can go on for a while; usually until retirement or death.
New justices are nominated by the president and confirmed by a majority of Senators. With only 51 Republicans in the chamber currently, it would only take a couple "no" votes by GOP members to outweigh Vice President Mike Pence's tiebreaker vote. There's concern among the GOP that if the judge is not confirmed before the midterm elections, the Senate might flip Democratic and jeopardize Kavanaugh's confirmation. A fierce battle to block his confirmation is already underway on Capitol Hill.
While it remains unclear whether Kavanaugh will be confirmed before the midterms in November, at least RBG fans can rest assured she has no intention of stepping down anytime soon.