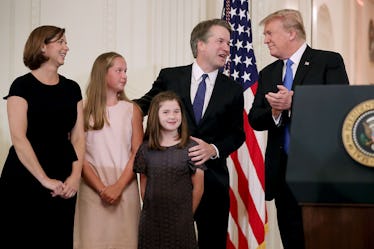 This Is Probably How Trump Picked His Supreme Court Nomination
Chip Somodevilla/Getty Images News/Getty Images
When Supreme Court Justice Anthony Kennedy announced in June that he would retire the following month, it was reported that President Donald Trump would select his replacement from a pre-constructed list of 25 conservatives judges. On Monday night, July 9, that list was watered down to one name. With a Supreme court nomination being such an important process for any president, it's worth wondering how and why did Trump nominate Brett Kavanaugh to replace Anthony Kennedy, and what does the type of chose the president make mean for the near future?
On Tuesday morning, Axios' Mike Allen reported that the president wanted to hit a "home run" and went for a nominee "who's got the votes" or, in other words, a selection that would leave no doubt as to whether all 51 Republicans in the Senate would vote to confirm the nominee.
That type of selection meant going for Kavanaugh, a Yale Law graduate who has been a federal judge for 12 years, serving on the U.S. Court of Appeals for the Washington D.C. Circuit, which is described as the country's second most important court.
Kavanaugh is also a former member of President George W. Bush's administration. That's why the nomination of Kavanaugh has been described as a safe pick, and one dictated by the "GOP establishment."
That matters for a couple of reasons.
First, it means that Trump didn't go for a pick specifically designed for a big fight, like another favorite for the nomination, Amy Coney Barrett. Democrats still promise a fight, mind you, but it's still worth noting how the nomination of Kavanaugh has been received by political commentators.
Take New York Times reporter Jeremy Peters on the nomination:
"[Federal judge Amy] Coney Barrett's appeal to conservatives wasn't just her conservatism. They knew she would trigger a messy fight with the left, the kind the right loves," Peters tweeted on Monday. "But she didn't connect with Trump. Interview was "stiff," source says. Plus, Trump doesn't want to risk a fight now."
Then there was former Pennsylvania Sen. Rick Santorum:
"Well, I think that Donald Trump said he was going to energize the base with this pick. I don't think he did that ... It just seems like Trump in this case just bowed to the elite in Washington. I think that's going to rub a lot of people the wrong way," Santorum said on CNN Monday night. "I don't think it's going to be a game changer, but I think it's not a, 'Yeah, let's go get them,' kind of moment for Trump."
Now consider the words of conservative writer Michael Dougherty:
"Barrett causes the other side to go crazy in a way that will drive GOP turnout in November," he tweeted on Monday night. "Kavanaugh will be enough to motivate the left without similarly motivating the right."
Second, the notion of Brett Kavanaugh being a "safe pick" by Trump means that there is more focus on three Democratic senators who are running for reelection in states that the president won during the 2016 run for the White House. They are West Virginia Sen. Joe Manchin, North Dakota Sen. Heidi Heitkamp, and Indiana Sen. Joe Donnelly.
On Tuesday, Politico reported that Vice President Mike Pence is scheduled to participate in interviews broadcasted in those three states in order to put pressure on the "red state Dems."
If the three senators view Kavanaugh as less radical of a choice, like others do, then Sens. Manchin, HeitKamp, and Donnelly might offer less resistance to the nominee then their Democratic colleagues, in order to not risk their chances at reelection.
Lastly, it's worth noting how Trump made his selection. Reports on Tuesday highlight two important factors: discussions with Justice Kennedy and the advice of conservatives legal groups in Washington D.C. — which again explains the idea of Kavanaugh as an "establishment" choice.
On Tuesday, New York Times columnist David Brooks explained the importance of who Trump consulted. "It almost doesn't matter which Republican is president," Brooks wrote. "The conservative legal infrastructure is the entity driving the whole project. It almost doesn't even matter if Kavanaugh is confirmed or shot down; there are dozens more who can fill the vacancy, just as smart and just as conservative."
Simply put, the Supreme nomination is important in itself, but how and why the nominee was selected says a lot about what could happen during the confirmation hearing and down the road, during the midterm elections in November.