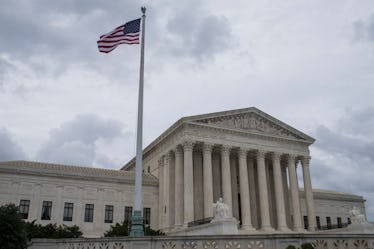 People Think This Woman Is Trump's Favorite For The Supreme Court Nomination
Zach Gibson/Getty Images News/Getty Images
Supreme Court Justice Anthony Kennedy may be weeks away from officially vacating his seat on the bench of the nation's highest court, but President Donald Trump is already making progress in the search for a replacement. On Monday, July 2, The New York Times reported that the president personally interview four candidates for the soon-to-be vacant seat, each for 45 minutes. One of those candidates is Amy Coney Barrett, a federal judge that has quickly become a popular bet for the Supreme Court nomination.
Barrett is a court of appeals judge in the Seventh Circuit who is a part of President Trump's 25-person shortlist for Supreme Court nominations. A 46-year-old mother of seven, Judge Barrett has been described as a favorite by The Los Angeles Times, The New York Times and The Washington Post, which outlined point-by-point exactly why conservatives would consider her a top choice.
Another source who considers Judge Barrett for the Supreme Court nomination? Senate Minority Leader Chuck Schumer, who on Monday posted a series of tweets about the potential justice, a sign that Democrats, too, view her as a near-presumptive nominee.
Sen. Schumer's tweets highlight the ideological differences between core principles of the Democratic party's platform and Judge Barrett's record, and probably give a good indication on the issues Democrats will press her on should she end up in a confirmation hearing later this summer.
Here's what the minority leader had to say:
Amy Coney Barrett is a judge on the Court of Appeals for the 7th Circuit & on @realDonaldTrump's pre-approved list for SCOTUS [Supreme Court of the United States]. She passed his 'litmus test' on overturning Roe v. Wade & striking down the ACA [Affordable Care Act]. Here's where she stands on Americans' big issues: Barrett attacked the Supreme Court's decision upholding the Affordable Care Act, which has helped millions of people secure health insurance coverage. Barrett also fought efforts to ensure that all women have access to contraceptives ... The bottom line: Judge Barrett has given every indication that she will be an activist judge on the Court. If chosen as the nominee, she will be the deciding vote to overturn Roe v. Wade and to strike down pre-existing conditions protections in the ACA. #WhatsAtStake
To date, Judge Barrett's most publicized moment came during her last interview before Congress, after President Trump nominated her to the court of appeals. During her confirmation hearing — during which a nominee is vetted by and fields questions from the Senate Judiciary Committee — California Sen. Dianne Feinstein expressed a certain concern.
"When you read your speeches, the conclusion one draws is that the dogma lives loudly within you, and that's of concern when you come to big issues that large numbers of people have fought for, for years in this country," Sen. Feinstein said.
Feinstein's words drew criticism from conservatives who accused the senator of applying a religious test for a nominee. One of those critics was Notre Dame University president John Jenkins, who wrote in the letter to the 84-year-old Democrat, reading, "I am one in whose heart 'dogma lives loudly,' as it has for centuries in the lives of many Americans, some of whom have given their lives in service to this nation. Indeed, it lived loudly in the hearts of those who founded our nation as one where citizens could practice their faith freely and without apology."
Criticism and controversy aside, however, both Sens. Feinstein and Schumer's comments are useful in understanding exactly what Democrats would try to highlight with a nominee like Barrett — and perhaps why conservatives would love such an appointment.
Judge Barrett is not just a young, religious conservative who could serve on the Supreme Court for decades. She's a candidate with a particular reputation that indicates she would overturn Roe v. Wade, the landmark ruling that legalized abortion.