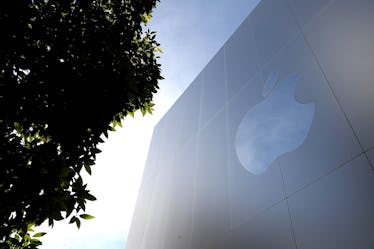 Apple's 2018 Keynote Address Is Going To Take A While To Watch
Justin Sullivan/Getty Images News/Getty Images
Some may argue that fall is the best time of the year, but I beg to differ. Apple is gearing up to launch a new round of iPhones and other products at their 2018 Keynote Address. The highly-anticipated event is slated to take place on Wednesday, Sept. 12 starting at 10 a.m. PT. That's smack dab in the middle of the workday for many people on the East Coast. If you're planning to tune in, you may be wondering, "How long will Apple's 2018 Keynote last?" You'll need to plan accordingly because the event could run for a couple of hours.
The special event will be held at the Steve Jobs Theater in Cupertino, California and kicks off at 10 a.m. PT (that's 1 p.m. ET), according to Apple. Although the innovative tech company has not officially released a runtime for the 2018 Keynote Address, it should only take a couple of hours. In 2017, Apple's Keynote Address, which also took place in the month of September, went on for roughly two hours, according to Express. There's no reason to think that this year's special event would run any longer, but make sure to give yourself some extra time just in case.
The tech company will live stream the event. You can watch it all unfold by tuning in right from Apple's website. If you want to get all of the nitty gritty details of Apple's newest products, it may be a good idea to rearrange your schedule and block off some time to watch. If your schedule doesn't allow time to watch the event, consider taking your lunch break a little earlier or a little later than you normally would (depending on what part of the country you live in). This may buy you some extra time to catch a few of the details from the event.
With less than 24 hours to go, the internet is speculating as to what new products Apple has up its sleeve. One of those rumors includes the supposed massive size of the new iPhone X. The not-yet-released mobile device is reportedly going to be Apple's largest iPhone to date, according to Bloomberg. The iPhone X screen will reportedly top out at a cool 6.5-inches in diameter, per Bloomberg. For comparison's sake, the iPhone 8 has a 4.7-inch screen display and the iPhone 8 Plus has a 5.5-inch screen display, according to Apple. If true, the iPhone X would be a full one-inch upgrade over the iPhone 8 Plus.
To find out of the hearsay is true, you'll just have to tune into the live stream of the 2018 Keynote Address for yourself. You should make sure that your browser and mobile device are up-to-date before attempting to view tomorrow's event. Apple recommends viewing the product unveiling event on an iPhone, iPad, or iPod Touch using the Safari web browser on iOs 10 or later. If you'll be watching from your Mac, Safari is the preferred viewing browser, according to Apple. Just make sure you are running macOS Sierra 10.12 or later.
For those who will be tuning in on a PC, Windows 10 and Microsoft Edge are required. The event can also be streamed on updated browsers such as Chrome or Firefox, according to Apple.
Go ahead and carve out an hour or two for yourself tomorrow. You'll be glad you did.