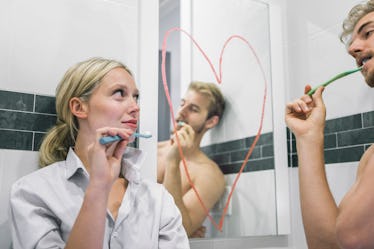 Experts Say This Is How Long You Should Date Before You Start Leaving Stuff At Their Place
What's the weirdest thing you've ever left at someone you were dating's house? For me, it was a curling iron in the freezer. Long story. Anyway, there may come a point in any new relationship when you're going to want to start leaving a few things at their place. After all, if you're staying over regularly, you don't want to have to schlep your toothbrush and pajamas around with you all day just so you can avoiding leaving any trace of your existence behind in their apartment, right? So, how long should you date before leaving stuff at their place? Is that something you need to wait to do until the relationship is fully established? Or is it really no big deal to leave a few essential items around pretty much from the start?
To help answer those questions, I reached out to dating and relationship experts Grace Lee, co-founder of A Good First Date Online, and Stef Safran, matchmaker and founder of Stef And The City, who helped break down how to know when it's OK to start leaving things at their place and how to go about it. Their advice made so much sense. Here's what they had to say.