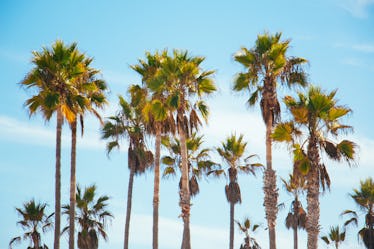 Flights To LA, Vegas, & Cancun Are Super Cheap Right Now, So Book ASAP
With the start of summer right around the corner, you might be starting to think about those highly anticipated warm weather plans. And whether you decide to tear things up in a new city, go for a glorious hike in the mountains, or if you really just want to get your tan on at the beach, booking flights quickly is vital in order to get something cheap while you still can. If you're wondering how long Southwest's flash sale is, it's ending relatively soon — so make sure to buy your ticket while you still can.
In case you haven't already heard, Southwest Airlines is having a really fantastic sale on summer flights right now, and honestly, there's absolutely no way I can pass up this opportunity. Between April 24 and June 13, or between Aug. 21 and Oct. 31, you can find one-way tickets for as low as $49, which will be flying between several cities throughout the United States. Going from Albuquerque, New Mexico to Phoenix, Arizona, for example, is only $49, and from Boise, Idaho to Spokane, Washington only costs $59. I've been trying to keep a promise with my wallet that I'd be a little more "financially responsible," but seriously, this deal is ridiculous. Sorry bank account, but I don't really think we can pass up this opportunity. In order to partake in the sale, you must book your flight before April 19.
As per usual, flying out of the country is a little pricier than flying domestic... but hey, there are some really fantastic international flight deals as well. Tickets from Fort Lauderdale to Aruba are only $147, while tickets from Houston, Texas, to San Jose, Costa Rica are only about $153. Flights from Atlanta, Georgia, to Punta Cana, Dominican Republic are going for about $235. Cheap tickets can be really hard to find, especially if you're flying out of the country, so booking before the giant sale ends on April 19 is a definite must.
Make sure to check the Southwest Airlines website for the specific flight deals before you get too excited, though. There are certain airports this deal doesn't apply to, so you might not be able to find your absolute dream vacation. If you have to, I'd suggest taking a train or a short flight to wherever your actual desired flight leaves from (if it isn't too expensive to get there, that is). And even though you may have never thought of traveling to Cincinnati, Ohio, or Milwaukee, Wisconsin, now may actually be the right time to do so. You probably won't find a better flight deal than this, so why not explore somewhere totally new?
Once you finish booking your summer plans, there are a ton of super sweet travel apps that might end up coming in handy for your trip. While some apps are super helpful for splitting a bill if you're traveling with friends, others are great for creating the perfect playlist, sharing photos, trip planning, eating vegan, or exchanging currency. There are a ton of extremely useful tools that can totally enhance your vacation this summer, and looking into them can end up helping you in the long run.
Even though my bank account definitely won't be too thrilled, there's no way in hell I won't be taking advantage of this flight deal — sorry not sorry. Again, the sale ends on April 19, and I just can't fathom the idea of missing out. Although there's still a little bit of time to consider the options, booking something while flights are still available is extremely important. However, the most important part of this deal is to make sure you document every second of your trip on Instagram, no matter where you go. Because I mean, really, isn't that one of the best parts of traveling?