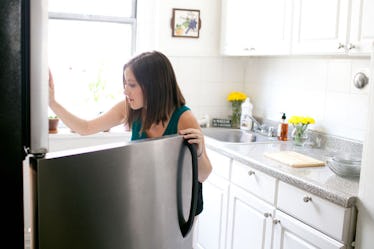 Here's How Long All Of Your Favorite Thanksgiving Leftovers Will Last In The Fridge
It's official — Thanksgiving is over for the year. But, thanks to the wonders of modern food preservation, you can continue to feast on your favorite holiday dishes this week, next week, and even well into the new year — as long as you store these foods the right way, that is. Personally, I'm still polishing off the green bean casserole my mom made for the holiday, but I can't help but wonder how long my other Thanksgiving leftovers will last because, TBH, I think I could eat mashed potatoes and apple crisp for the rest of my life. If you're a fellow Thanksgiving fanatic, I have some good news and some bad news.
The bad news is that most of the classic Turkey Day delights are only good for about four days when stored in the fridge, but the good news is, some dishes can stay longer when they're put in the freezer, so you might want to clear out some space ASAP if you want to continue enjoying your Thanksgiving treats long after November has ended.
The thing about leftovers is, it's not just that you get to enjoy the same delicious dish more than once. You also get the opportunity to play with different flavors and create more tasty meals for yourself out of your leftovers. For instance, I'm so pumped to figure out all the yummy things I can do with leftover pumpkin pie, like blending it into a scrumptious milkshake, or repurposing a slice into white chocolate pumpkin pie truffles.
Basically, the possibilities are endless, as long as you make sure that everything stays safe to eat by following a few of the below guidelines.