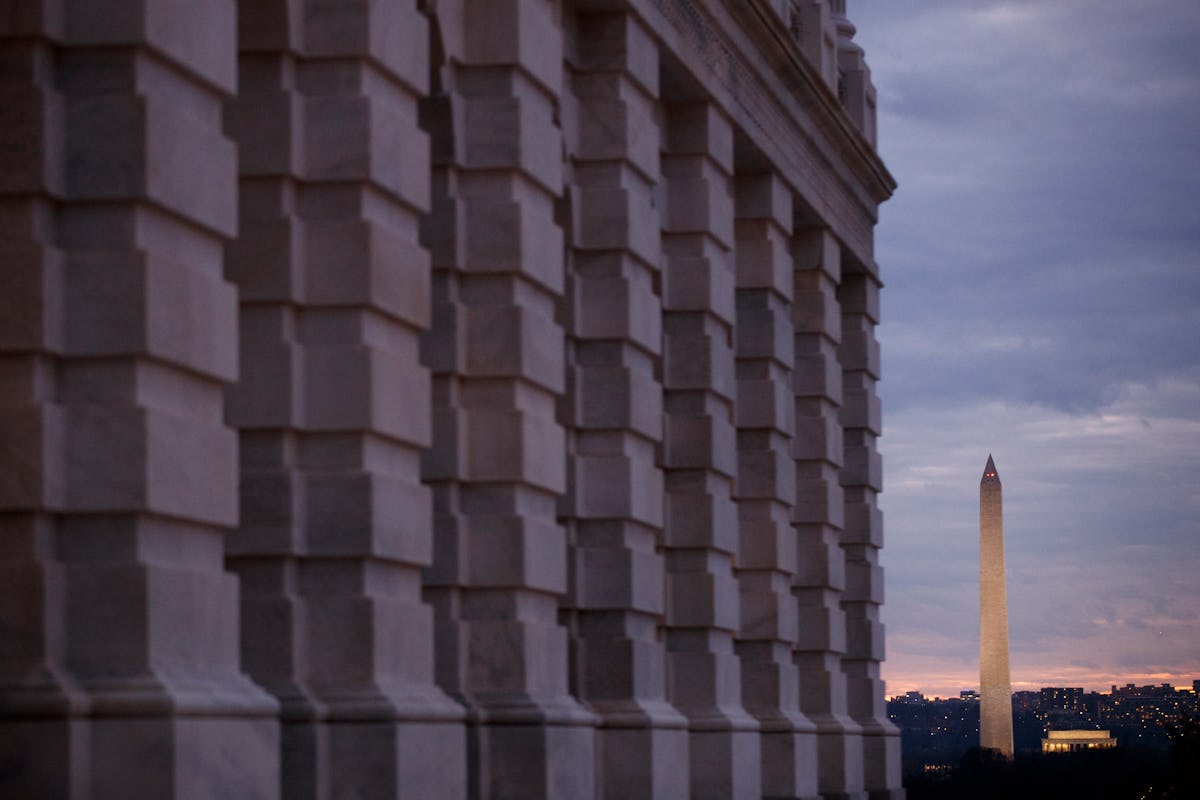 This Is How Long A Government Shutdown Could Last, So Prepare Yourself
Drew Angerer/Getty Images News/Getty Images
Just one week before President Donald Trump is set to deliver his first State of the Union address, the federal government is in the third day of its shutdown. Senators are scheduled to vote on Monday, Jan. 22 at noon ET on a temporary funding measure that would end the shutdown and give Congress another window within which to settle the budget. So whether the measure goes through or not, how long can a government shutdown last?
UPDATE: Just before 1 p.m. ET on Monday, Jan. 22, the Senate voted to end the shutdown with a short-term spending bill that would expire on Feb. 8. However, a vote still has to go through in the House. As of 1 p.m. ET, it is unclear if House Democrats will vote in support of it.
EARLIER: Republican leaders are hoping to pass a continuing resolution (CR) on Monday, a Band-Aid solution to reopen the government and provide funding through Feb. 8 while lawmakers continue to work towards a bipartisan budget agreement for the 2018 fiscal year that can pass both houses of Congress. The Senate noon vote was originally scheduled for Monday at 1 a.m., but it was apparently pushed back when it was evident that the bill didn't have the votes to pass. It will soon become clear whether the postponement gave Republicans the time they needed to get their Democratic colleagues on board. Many Democrats are holding out over specific policy provisions they want to see addressed in the bill. It should also be noted that even if the vote passes in the Senate on Monday, it will still need to be voted on by the House.
"It's abundantly clear that the Senate cannot make progress on any of these crucial matters until the government is reopened," said Senate Majority Leader Mitch McConnell said on Monday morning, per CNN. "We need to move forward and the first step is ending the shutdown."
The shutdown officially began on Saturday, Jan. 20 after funding ran out on Friday at midnight. Senate Minority Leader Chuck Schumer (D-NY) had met with Trump earlier Friday to try to negotiate a deal, but to no avail. Senate has held meetings through the weekend in a frenzied attempt to hammer out a plan that would end the shutdown, but as Monday rolled around, there was still no deal. Politico reports the vote is not expected to pass.
Republicans need Democratic votes.
A spending bill needs 60 votes to pass the Senate, meaning about a dozen Democrats would need to get on board and vote for it (assuming a few Republicans would also vote against).
A headcount by CNN showed that, as of Monday, the bill has the support of 53 senators. With only 51 Republicans, the majority party still needs another 7 Democrats to break ranks and vote yes. That's a tall order, so if it fails (which is likely), the shutdown will continue. It's unclear how long it would take to get to the 60 votes needed to reopen the government, but if both parties continue to hold their ground, it could be awhile.
How long have previous shutdowns lasted?
The last government shutdown, in October 2013, lasted 16 days. Since the modern budget process began in 1974, there have been 18 government shutdowns, averaging under a week each, per Business Insider. The longest shutdown, in 1995, lasted three weeks. So the fact that we're at Day 3 isn't necessarily newsworthy yet.
But as BI points out, there's one key difference here: Whereas the majority of the previous shutdowns didn't involve furloughing federal employees, this one does. Most federal workers aren't reporting to work or getting paid while the shutdown is ongoing.
Depending on the terms of the shutdown, nonessential federal employees can be placed on furlough, or unpaid time off for which they're generally retroactively reimbursed. After the 2013 shutdown ended, federal workers who were furloughed were paid shortly thereafter to make up for their lost pay, and a court ruled last year that some employees were also eligible for back pay.
This shutdown isn't like other shutdowns.
Office of Management and Budget Director Mick Mulvaney spoke about the shutdown at a press conference on Friday, Jan. 19. "We don't want a shutdown," said Mulvaney. "It will look very different than it did under the previous administration. ... The Obama administration weaponized the shutdown in 2013."
Others, including The Washington Post's Karen Tumulty and Michael Scherer, believe that this shutdown is different because of the ideological roots of the extreme partisan standoff. Specifically, they mention Trump's now-infamous "sh*thole countries" remark as the metaphorical first shot fired in a larger battle over immigration, nativism, and race.
Democrats have been clear that, among other demands, they want to see protections for Dreamers, young immigrants brought to the U.S. as children who are currently shielded from deportation under the Deferred Action for Childhood Arrivals (DACA) program. On Sunday, according to The Post, McConnell agreed to take up the immigration issue, but after Democrats pass the temporary spending bill.
As MSNBC's Chris Hayes points out in a thread, whereas the 2013 shutdown hinged on funding for the Affordable Care Act — an issue for which it was clear where President Barack Obama stood — the leadership this time has sent mixed messages about where they stand on protecting Dreamers.
All eyes are on how whether Republican concessions are enough to secure Democrats to break ranks and vote through the resolution to reopen the government. But unless a huge step is made by one or both parties to reach a compromise, there's no clear end date for the shutdown.