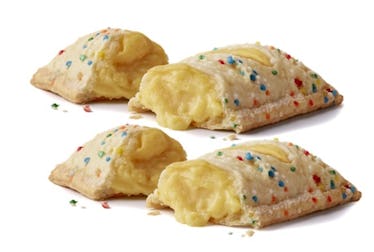 McDonald's Is Selling Holidays Pies & You Better Act Fast If You Want One
McDonald's
If you've ever found yourself in the McDonald's drive-thru placing your regular order but wondering what those individual apple pies taste like, you're not alone. I'm always curious about them, but if I want something sweet, I usually wind up going for an Oreo McFlurry; it's just a classic. But that all could change with the release of McDonald's new Holiday Pies. But just how long will McDonald's Holiday Pies be available? Fair warning: The sweet treat won't be here for long.
A McDonald's spokeswoman tells Elite Daily the festive pies are only here for a limited time. They're baked daily and feature a flaky, buttery crust topped with rainbow sprinkles and a smooth vanilla custard filling. The outside looks less like a pie crust and more similar to a shortbread cookie in color and texture. Teen Vogue reports that it tastes like a sugar cookie, and is coated in a sugar glaze. I need one, like, yesterday.
Another great thing about these treats? They don't cost more than the original apple pie. Individual prices vary, but Brand Eating reports that these babies are going for 89 cents a pop, or $1.50 for two. So bring a friend with you to try them. (Or, you know... don't. We're not judging.) Either way, for that price, they're definitely worth sampling. Who knows? Maybe they'll inspire you to bring your own version to a holiday party.
If you want to get your hands on one of these, we suggest acting fast. The pies will presumably only be available through the holiday season. You'd also better hope that they're coming to a location near you. Thrillist notes that customers in Florida, Illinois, Ohio, Massachusetts, Southern California, and Texas are the chosen few who will get to try the pies, at least for now. Now that I think of it, my grandparents live in Florida. I wonder if the pies could survive the U.S. Postal Service.
This isn't McDonald's first rodeo when it comes to a festive dessert. According to Cosmopolitan UK, the brand previously offered one across the pond featuring custard and mincemeat. However, McDonald's apparently ditched that pie in 2016, and it looks like this new version has permanently replaced it. Twitter users in the UK were outraged last year when they found out that the pie would not be returning, and the disappointment has continued this year.
Woah, they're serious about their pies over there, huh?
The McDonald's UK menu also featured another sweet pie: the Chocolatey Banoffee Pie (banoffee being a mixture of bananas, cream, and toffee). It's unclear whether or not that one has returned, but if it has, I need to book a flight ASAP.
The other item featured in the photo above is a Terry's Chocolate Orange McFlurry. For those unfamiliar, Terry's is an English chocolatier best known for creating the Chocolate Orange, which is a ball of chocolate mixed with orange oil and segmented like a real orange. McDonald's version of the dessert consists of real dairy ice cream and chunks of Chocolate Orange, and it's topped with Terry's Chocolate Orange sauce. It also comes in a rather lavish looking container (it almost reminds me of a Starbucks cup). According to The Sun, the special McFlurry is back this year for a limited time. Seriously, if anyone sees any cheap flights, please let me know!
In the U.S., McCafé has also added some festive beverages to its menu, including a McCafé Peppermint Mocha and a McCafé Peppermint Hot Chocolate for all of our caffeine-free friends. The beverages come in their own festive cups, which are bright red with precious glistening star details.
Check out the entire Gen Why series and other videos on Facebook and the Bustle app across Apple TV, Roku, and Amazon Fire TV.