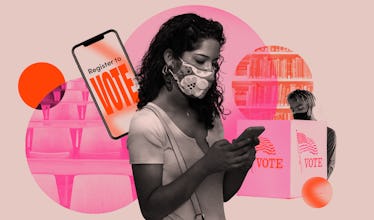 Amid The Pandemic, Latinx College Students Are Still Getting Out The Vote
Getty/ Stocksy/ Elite Daily
Sabrina Gutierrez, 19, spends most days sitting behind a computer in her childhood bedroom, the walls plastered with childhood photos and Harry Styles posters, attending virtual classes for her Political Science major. In her spare time, the third-year student at San Diego State University spends at least an hour each day on Instagram, sliding into the DMs of other young people — some friends, others complete strangers — to remind them why they should vote this November.
In a typical election year, college get-out-the-vote organizations would be flyering, hosting presidential debate watch parties, manning info booths in highly trafficked areas of campus, and even holding events alongside local candidates. But of course, nothing about 2020 is normal.
Julianna Collado, 20, a third-year student at the University of Michigan and lead director of La Casa, a Latinx student community action group, has been involved in political campus organizing since her freshman year. "In the past we were able to lean on prior knowledge … to continue building and elaborating on [organizing] ideas, but in this space now, it's kind of like we're floating," she says, laughing. To raise awareness about the importance of voting this year, she says, "We have to come up with something new."
For Latinx campus organizers, 2020 is also critical because Latinx voters will be the largest racial or ethnic minority in the country, comprising 13.3% of eligible voters. And according to the Pew Research Center, one in 10 Americans eligible to vote this November will be members of Generation Z. That makes Gen Z, Latinx voters a crucial demographic for swaying not only the 2020 presidential race, but local elections nationwide.
Against the backdrop of the coronavirus pandemic, which has disproportionately affected Black and Latinx communities, these demographic identifiers take on new meaning. As a result of institutional policies that put profit before students' health and safety, college campuses have emerged as vectors of the pandemic, leading most to continue with remote learning, despite requiring students to be on campus. For organizing purposes, this has its pros and cons.
"My campus is closed, except I think they just opened up the library," says Gutierrez. In previous years, she's worked with fellow students to post voter registration materials in campus residence halls, but now, only residents are allowed into their own dorms. "We'll put up fliers around there and just kind of hope for the best." With over 800 coronavirus cases at SDSU, Gutierrez is avoiding campus unless she absolutely can't: "My mom, she's a caregiver and I don't want to get her sick."
Per the Centers for Disease Control and Prevention (CDC), Latinx people are four times more likely than non-Latinx whites to be hospitalized due to COVID-19. Collado's organizing work is mindful of the comfort of her school's Latinx population, asking students whether they're comfortable with socially distant IRL meetings or if they'd prefer to do everything virtually. The goal is to accommodate everyone. "It's the nature of a community organization to respond to these needs and go beyond the call of duty in unprecedented circumstances like a pandemic," she says.
In lieu of in-person organizing strategies, social media has been a boon. "We have seen the power of social media from movements we have participated in just this past summer regarding racial justice, supporting sexual assault survivors, and more," says Collado. One of La Casa's forthcoming campaigns will involve posting student voting testimonies on their social media platforms, "so that people have a steady stream of reminders coming from us about the importance of voting and the power of our voice."
Even if I didn't want to be politically active, just existing in this world at this time and being Latinx is political.
Gutierrez has done similar work through IGNITE, a national organization for female students interested in politics that's partnered with Rock the Vote to register potential voters at schools like SDSU. "Because of the pandemic, it's been kind of challenging to talk to people that don't really know about [political issues]." Posting on her Instagram stories and engaging with other people who've been posting similar political content helps create points of connection.
Raising awareness about the election might feel particularly daunting when the leader of the current administration has openly disparaged Latinx communities from Mexico to Puerto Rico, but for young Latinx activists, it's the only way to move forward. Gutierrez's Mexican heritage has deeply influenced her desire to get out the vote; her mother recently became a citizen after decades of living in the U.S. "She has been wanting to vote for years, decades, since she's been here," Gutierrez says. When she sees the contrast between people like her mother and those who choose not to vote, she says, "I'm like, people fought for your rights." She believes that voting "really is the least we can do" to move politics in a direction toward increasing equity for Latinx people in this country.
As an Afro-Latina of Cuban descent, Collado feels her existence has always been political, and the pandemic has only intensified that. "Even if I didn't want to be politically active, just existing in this world at this time and being Latinx is political," she says, adding that living at the intersection of multiple identities adds a nuance to her experiences, big or small.
Above all, both women hope their efforts remind other Latinx Gen Z-ers of how much their voices matter. "Latinx and Hispanic people have been very underrepresented in politics," says Gutierrez. "Everyone should have a say in our politics because this is what the United States is made up of."
Latinx voters have the potential to make a greater impact now than ever before, and campus organizers have made it their mission to remind their peers of that fact. "I understand that the Latinx community isn't a monolith, but there is power in acknowledging that we're going to have 13.3% of the vote in this election if everyone registers and uses it," Collado says. "That's a strong voice for a community that people are oftentimes trying to silence."
Your voice matters. So does your vote. Make sure both are heard and counted in the 2020 election by registering to vote right now.
Estudiantes universitarias latinx siguen movilizando el voto durante la pandemia
Sabrina Gutierrez, quien tiene 19 años, pasa la mayoría de su días sentada en frente de la computadora en el cuarto de su infancia, cuyas paredes están cubiertas con fotos de su niñez y carteles de Harry Styles, asistiendo a clases virtuales para su especialización universitaria en ciencias políticas. En su tiempo libre, la estudiante, quien está en su tercer año en la Universidad Estatal de San Diego, pasa al menos una hora cada día en Instagram, enviándole mensajes a otros jóvenes — algunos amigos, otros desconocidos — para recordarles porque deberían votar en noviembre.
En un año electoral típico, organizaciones universitarias para obtener el voto estarían distribuyendo avisos, organizando eventos para observar los debates presidenciales en la tele y ocupando puestos de información en áreas del campus con mucho tráfico, e incluso, quizás hasta organizando eventos junto con los candidatos locales. Pero nada en el 2020 es usual.
Julianna Collado, quien tiene 20 años, es una estudiante de tercer año en la Universidad de Michigan y directora principal de La Casa, un grupo de acción comunitaria de estudiantes latinx. Ha estado involucrada en la organización política de su campus desde su primer año en la universidad. "En el pasado pudimos apoyarnos en lo que ya estábamos haciendo y continuar a construir y organizar ideas, pero ahora, en este clima, es como si estuviéramos flotando'', dice, riendo. Para crear conciencia sobre la importancia de votar este año, dice: "Tenemos que pensar en algo nuevo".
Para organizadores políticos latinx de los campus universitarios, el 2020 también es crítico porque los votantes latinx en los Estados Unidos serán la minoría racial o étnica más grande del país, y componen el 13.3% de los votantes elegibles. Y según el Pew Research Center, uno de cada 10 estadounidenses elegibles para votar este noviembre será miembro de la Generación Z. Eso significa que los votantes latinx de la Generación Z son un grupo demográfico crucial para influir no sólo en la elección presidencial del 2020, sino también en las elecciones a nivel local en todo el país.
En el contexto de la pandemia de coronavirus, que ha afectado de manera desproporcionada a las comunidades afroamericanas y latinx, estos identificadores demográficos adquieren un nuevo significado.
Como resultado de las políticas institucionales que anteponen las ganancias financieras a la salud y la seguridad de los estudiantes, las universidades han surgido como puntos críticos de la pandemia, causando que la mayoría de los campus continúen con las clases virtuales, a pesar de exigir que los estudiantes estén presentes en el campus. Para propósitos de organización política, esto tiene ambos beneficios y contras.
"Mi campus está cerrado, excepto que creo que acaban de abrir la biblioteca'', dice Gutierrez. Anteriormente, trabajó con sus compañeros para colocar materiales de información sobre el registro de votantes alrededor del campus y en las residencias universitarias, pero ahora, solo los residentes pueden entrar a los dormitorios.
"Colgaremos materiales de información, y esperamos lo mejor'', dice Gutierrez. Con más de 800 casos de coronavirus en su universidad, está tratando de evitar el campus lo más que pueda. "Mi mamá es cuidadora y no la quiero enfermar".
Según los Centros para el Control y la Prevención de Enfermedades (CDC), los latinx tienen cuatro veces más probabilidad que los americanos blancos y no latinx de estar hospitalizados debido a COVID-19. El trabajo de organización de Collado toma en cuenta la comodidad de la población latinx en la universidad y les pregunta a los estudiantes si se sienten seguros con las reuniones en persona respetando la distancia física o si prefieren hacer todo virtual. La meta es que todos se sientan cómodos. "Es la naturaleza de una organización comunitaria responder a estas necesidades e ir más allá del llamado del deber en circunstancias sin precedentes como una pandemia", dice Collado.
En vez de estrategias de organización en persona, las redes sociales han sido útiles. "Hemos visto el poder de las redes sociales en movimientos en los que participamos el verano pasado con respeto a la justicia racial, el apoyo a las sobrevivientes de agresión sexual y más", dice Collado. Una de las próximas campañas de La Casa consistirá en publicar testimonios de estudiantes votantes en sus plataformas de redes sociales "para que la gente tenga un flujo constante de recordatorios de nuestra parte sobre la importancia de votar y el poder de nuestra voz".
Incluso si no quisiera ser políticamente activa, solo existir en este mundo en este momento y ser latinx es político.
Gutierrez ha trabajado en proyectos similares con IGNITE, una organización nacional para estudiantes mujeres interesadas en la política y que también está asociada con Rock The Vote para registrar a votantes en escuelas, como la Universidad Estatal de San Diego. "Debido a la pandemia, ha sido difícil hablar con personas que realmente no saben sobre [temas políticos]". Publicar en sus historias de Instagram e interactuar con otras personas que también han estado publicando contenido político ayuda a crear puntos de conexión.
Crear conciencia sobre las elecciones puede ser aplastante cuando el líder de la administración presente ha menospreciado abiertamente a las comunidades latinx, desde México hasta Puerto Rico, pero para los jóvenes activistas latinx, es la única forma de avanzar. La herencia mexicana de Gutierrez le ha influido profundamente su deseo de obtener el voto; su madre recientemente se hizo ciudadana después de varias décadas de vivir en los Estados Unidos. "Ella tiene años queriendo votar, desde que ha estado en este país", dice Gutierrez. Cuando ve el contraste entre personas como su madre y las que eligen no votar, dice: "La gente peleó por tus derechos". Cree que votar "realmente es lo mínimo que podemos hacer" para mover la política en una dirección hacia una mayor equidad e igualdad para los latinx en este país.
Como afrolatina de herencia cubana, Collado siente que su existencia siempre ha sido política y la pandemia solo lo ha intensificado. "Incluso si no quisiera ser políticamente activa, solo existir en este mundo en este momento y ser latinx es político", dice, agregando que vivir en la intersección de múltiples identidades agrega un matiz a sus experiencias, grandes o pequeñas.
Sobre todo, ambas mujeres esperan que sus esfuerzos les recuerden a otros latinx de Generación Z lo mucho que importan sus voces. "Los latinx y los hispanos han estado muy poco representados en la política", dice Gutierrez. "Todo el mundo debería tener voz y voto en nuestra política porque de esto se componen los Estados Unidos".
Los votantes latinx tienen el potencial de tener un mayor impacto ahora que nunca y los organizadores han hecho que su misión sea recordarles eso a sus compañeros. "Entiendo que la comunidad latinx no es un monolito, pero hay poder en reconocer que vamos a tener el 13.3% de los votos en esta elección si todos se registran", dice Collado. "Es una voz fuerte para una comunidad que todo el mundo intenta silenciar".
Tu voz y tu voto importan. Asegúrate que ambos sean escuchados y contados en las elecciones de 2020 registrándote para votar ahora.