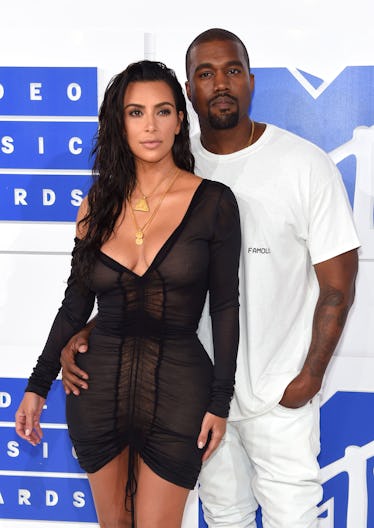 The Way Kim K & Kanye West Remember Their Late Parents Is So, So Beautiful
Jamie McCarthy/Getty Images Entertainment/Getty Images
The longer Kim Kardashian West and Kanye West are together, the more fans really understand how perfect they truly are for each other. Over time, the reality TV star and rapper have proven again and again that they're in this marriage for the long haul, and their connection runs much deeper than a pair of Yeezys. For example, both Kim and Kanye experienced the loss of a parent, with Kim's father Robert Kardashian Sr. dying in 2003 and Kanye's mother Donda West dying in 2007. How Kim Kardashian and Kanye West remember their late parents is very beautiful.
Kim was 22 years old when her father died of esophageal cancer. Four years later, Donda West died from heart disease after a series of "multiple post-operative factors" following plastic surgery, according to People magazine. Kardashian and West wouldn't date for another five years, but the loss of their parents would prove to be a defining connection. Today, Kardashian explains she and West have a small way of keeping their parents close to their lives. Kardashian explained it during an interview with CR fashion book. She said,
I believe there are signs from the spirit world all around us. When my dad was sick with cancer, we were laying out by his pool and I said, 'If you die, you have to come back in the form of a bird.' We were driving on the freeway right before his funeral and this huge flock of birds flew over the 101. Everyone stopped because it was so crazy looking. I was like, 'There you are.'
Today, Kardashian says she and her husband "reference birds" all the time. To them, they symbolize their deceased parents. "We seem to see a lot of black crows," she said. "Yesterday Kanye took a picture of the two black crows that are always at our house and always together. We always say that they are our parents hanging out together at our house."
According to Kardashian, she and her sisters have some superstitions they live by that go hand in hand with their faith. "I can be superstitious at times," she said. "Like before going on an airplane. My family and I always step onto the place with the right foot first. Another superstition is that whenever we hear an ambulance, we always touch our hair. I also say a prayer that the person will be okay. I'm big on prayer and superstition together."
Together, Kardashian and West have three children of their own. North, 5; Saint, 2; and Chicago, 7 months. During an interview with The New York Times in 2013 prior to North being born, West explained some of his feelings about his family. He said, "One of the things was just to be protective, that I would do anything to protect my child or my child's mother. As simple as that." On his mother's death, he said, "My mother was — you know, I have family, but I was with my mother 80 percent of the time. My mom was basically [my family]... Yeah, that's all I have to say about that."
Whether you believe in the afterlife or not, this bird theory is very, very sweet.