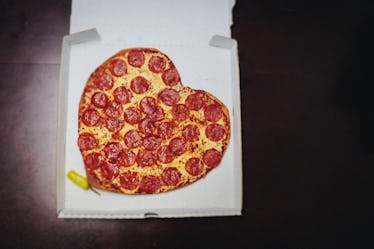 How Far In Advance To Make A V-Day Dinner Reservation, According To Where You Live
I live in New York, where securing a reservation is not a marathon, but a sprint. A tiny, infinitesimal, millisecond of a sprint. I have stayed up until 11:59 p.m. on the eve of the 30-day reservation window at Carbone, only to refresh the page at midnight to find super convenient 5:30 p.m. and 10:30 p.m. seating times. I had any easier time snagging floor seats to Britney's tour in 2000 on Ticketmaster, CAPTCHA codes and all. If you have yet to make a Valentine's Day reservation, I ask: How do you feel about dollar-slice pizza?
I bet that I can guess why you haven't made reservations yet, and I do not blame you at all for not doing so. Some common reasons for not having made a Valentine's Day plan by now are: "It's a silly holiday and I forgot it was coming up," or "I'm sort of seeing someone, but have no idea if we'll be smitten with each other by then." And of course, the classic: "I thought Guy Fieri's American Kitchen was still open and that we'd have no problem getting an ironic, last-minute V-Day table there." (I'm still sad that restaurant closed before I made it there, especially after this infamous New York Times review.)
The good news is that you are absolutely not alone when it comes to being unsure about when to make a dinner reservation. Restaurant reservation app Resy analyzed 25 cities across the country in order to determine where people tended to plan ahead the most when it came to making reservations, and the results varied. Here's how you might figure out when to make V-Day plans.
Know Your City's Scene
Are most restaurants reservation-based? Or do some of the best restaurants in your city have the anti-fancy, hip "no reservations, just wait two hours and try not to get too drunk" policy? The latter can be tricky on Valentine's Day, so check out what's going on in your city in terms of availability on Feb. 14.
If you log on to Resy or OpenTable to make reservations and almost everything looks booked, it's time to get on it — especially if you live in Dallas. Resy's research found that Dallas residents are unrivaled by any other city when it comes to booking reservations — they book 23 days in advance on average (and Valentine's Day is coming up sooner than that). Southern hospitality is quite on point. Other cities that were on top of their reservation game: Nashville at 10 days in advance, Seattle at nine, and Philadelphia, Phoenix, San Fransisco, and Honolulu at eight days.
On the contrary, if you live in Miami or Portland, you have time to wait. It turns out that users in those cities book on average two days before their reservation. Atlanta, Austin, Chicago, Orlando, and San Diego only plan out four days in advance, and shockingly, New York only banks on six days' advance notice to get that reservation!
If You Wait Until The Last Minute, Pull Out All Of The Stops
The one time I got a reservation at a normal dinner hour at Carbone, it wasn't for V-Day, but for my dad's 60th. After I got it, I had to reschedule the dinner to a later time due to a work commitment, and I worried I was too late. Carbone couldn't accommodate us, so I Googled frantically. While another great New York restaurant, Minetta Tavern, had no available tables listed online, I gave them a call and happened right into an 8:30 p.m. reservation on the night of my choice.
If you haven't made reservations for Valentine's Day yet and things seem booked up, keep checking online and calling your favorite spots as the day gets closer. Or make a list of a restaurants with a romantic vibe that you can call the week of. This is stressful, but something will eventually work out. After all, couples definitely break up before Valentine's Day. Or, you could show up early at a no-reservation spot and wait it out for your date.
All in all, get as far ahead of the Valentine's Day reservation game as possible. That said, I just checked a few of my favorite spots in Brooklyn, and they still have bar seats and a few Valentine's dinner tables around 7:30 p.m.. Llama Inn, I'm coming for you!
Check out the entire Gen Why series and other videos on Facebook and the Bustle app across Apple TV, Roku, and Amazon Fire TV.
Check out the "Best of Elite Daily" stream in the Bustle App for more stories just like this!