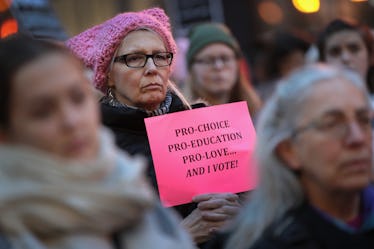 This Is What Keeps One Of America's Only Late-Term Abortion Providers Motivated
Scott Olson/Getty Images News/Getty Images
In August 2017, the Germantown Reproductive Health Services in Germantown, Maryland, an abortion clinic where Dr. LeRoy Carhart worked, was forced to close when the Maryland Coalition for Life, an anti-abortion group, protested the clinic and ran a crisis pregnancy center across the parking lot, bought the space. But even that wasn't enough to stop Carhart, 75, who has been providing abortions and fighting for women's access to abortion services for decades, from continuing to find a way to serve women. He is one of just four doctors in the country who provides abortions at any stage of a pregnancy, and he has been continuously targeted for providing late-term abortions.
So, two months after the Maryland Coalition for Life bought out the Germantown clinic, Carhart opened a new clinic in Bethesda, Maryland in October 2017.
"The anti-abortion extremists thought they could buy out his practice and get rid of him for good," the Abortion Access Fund, Inc. wrote on a fundraiser page. "It doesn't work that way. Dr. Carhart has endured over 45 years of battles. This is not his first rodeo and he will not stop caring for women that need abortion services."
In addition to the ongoing fundraiser for Carhart's clinic, Lady Parts Justice's third annual comedy abortion storytelling show, Postcards from the Vag, which will be held on Nov. 30 in Washington D.C., will also benefit Carhart and his work.
Although anti-abortion activists considered shuttering the Germantown clinic as a victory, their actions have only spurred Carhart to keep working, Chelsea Souder, spokesperson for the clinic, tells me in an interview for Elite Daily.
"Everything that all the anti-abortion extremists do actually drives us harder into our work, essentially. It kind of has the opposite effect, I think, of what they are going for when it comes to trying to intimidate and threaten and harass abortion providers. It's not going to stop us," Souder says.
This isn't an angst-driven reaction, however — it's not like when someone tells you something is forbidden so you only want to do it more. Instead, the Carhart clinic's motivation comes from care and concern for women. It's the women, as well as the protesters and laws that try to "stop our patients from accessing our care," that "continues to drive us," Souder explains.
Currently, there are only three facilities that provide abortions in the later stages of pregnancy, according to The Washington Post. In addition to Carhart's, there is one in Boulder, Colorado, and one in Albuquerque, New Mexico. There are many reasons why a woman would seek an abortion at a later stage of her pregnancy, and Carhart and his colleagues want to make sure that the option is available to her. However, abortion providers face many barriers to providing care, including anti-abortion activism and the many anti-abortion state laws put in place (often called "TRAP" laws, standing for Targeted Regulation of Abortion Providers). Now, with a Republican-majority Congress, a Republican president, and the nomination of conservative Neil Gorsuch to the Supreme Court, there are also threats to abortion laws on the national side.
"With the current administration, the current political climate, we don't know what will happen in the next few years as far as legislature when it comes to abortion access," Souder says. "But in the meantime, we're not going to act any differently. As we always have, we're doing everything according to the law. We just feel like our job is to continue to care for our patients and to ensure that women can access abortion care when they feel like they need to."
But abortion providers — especially those who provide abortions at later gestations — also face physical threats to their personal safety. In November 2015, for instance, a man opened fire at a Planned Parenthood in Colorado Springs, killing two civilians and one police officer. In 2009, George Tiller, who provided late-term abortions in Kansas, was assassinated in his church by an anti-abortion extremist. It was actually Tiller's assassination that drove Carhart to provide late-term abortions. Because of the threat of violence, Carhart and those who work at the clinic take extra precautions and go through training to keep themselves safe.
Carhart and his colleagues keep up this work because they believe that women need health care. And on the other side of the equation, the women themselves are often fighting to access care. While the laws and threats target providers, they also target women and women's access to abortion services. TRAP laws often include medically unnecessary barriers that just make getting an abortion more difficult, and if TRAP laws cause clinics to shutdown, it's more trouble for women as they have to travel further distances. As long as physical and legal threats from anti-abortion people persist, there are going to be extra barriers on both providers and patients for this medical procedure. Carhart wants to make sure that they're doing as much as they can to be accessible on the provider side.
"We feel like we can't rest. It's like every day has to be a fight, because the anti-abortion extremists are working overtime to rob women of access to abortion and just basic health care," Souder says. "We can't just say because abortion is legal that women can have access to it, because it's not true. The right to abortion is a right in name alone without the access piece, which is really important to focus on. It's our job to ensure they can access our care."