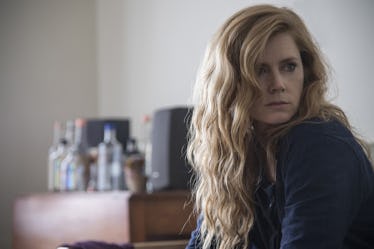 6 Facts About The 'Sharp Objects' Book That Show-Watchers May Want To Know
Anne Marie Fox/HBO
Even if you haven't read a Gillian Flynn book recently, it's safe to say that if you've spent any time on the internet, you know how twisty and dark her novels are. She's known for toying with readers' perspectives like it's nothing, and while her 2012 novel Gone Girl and its 2014 film adaptation made her a household name, the HBO adaptation of her novel Sharp Objects is set to boost her popularity once again. In case you didn't get around to reading Sharp Objects before its July 8 premiere, you probably want to know as much as possible about the book before the limited series continues. Most of us probably have one of the biggest questions of all on our minds (for real, how does the Sharp Objects book end?), but here's what else you should know about Sharp Objects.
In HBO's adaptation of Sharp Objects, Amy Adams stars as reporter Camille Preaker, who returns to her hometown of Wind Gap, Missouri, to help investigate a series of murders. She comes after being discharged from a psychiatric hospital, where she was being treated for her self-harming habit. Because of her difficult relationship with her mother (Patricia Clarkson) that particularly emerged from the loss of Camille's sister, Camille's return home isn't quite the happiest. While the leading role is Adams' first major television part, Sharp Objects also marks Adams' first TV appearance at all since her small role as Jim's girlfriend in early episodes of The Office. Remember when Jim wasn't with Pam?
The eight-episode series ensures that we're in for a chilling, dark summer of watching the story unfold on-screen, but here are six facts everyone should know about the original book Sharp Objects. This article contains potential spoilers for Sharp Objects.