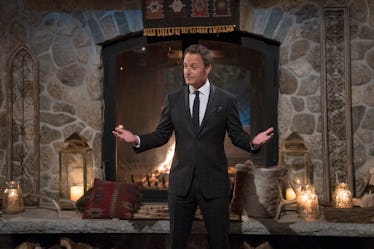 Chris Harrison Explained How 'The Bachelor Winter Games' Works & It's Not What You Think
The biggest question we've all had leading up to Bachelor Winter Games is how exactly the games will run. These reality TV personalities can't possibly compete on Olympic-level standards, so we have to ask: How do you win The Bachelor Winter Games? Luckily, Chris Harrison came to our rescue with the rules of the new competition series.
Speaking to the contestants once they moved into a cozy Vermont lodge, Chris explained that when it comes to the athletic competitions, women will compete against each other in their own heats while men do the same. Each winner is awarded a date card, allowing them to pick anyone else in the house to go on an inevitably winter-themed date with.
As for rose ceremonies, the Winter Games process initially seemed similar to the elimination procedure of Bachelor in Paradise. Contestants who emerge at the bottom of the pack as far as popularity goes are the ones to be cut. Pictures on the ABC press site also showed competitors writing on slips of paper, foreshadowing the specific voting elimination system that contestants didn't know about until the first rose ceremony.
ABC also sent out the following press release describing the athletic events reads:
The Bachelors and Bachelorettes will participate in challenges from winter biathlon to ice dancing, with date cards being given to the winners of each challenge. Romantic dates will test the Bachelors' and Bachelorettes' perseverance in pursuing relationships with one another while faced with language barriers and cultural differences, including some amusing issues with intimacy.
As seen in any Bachelor franchise show, the need to make a connection is crucial. Otherwise, you'll be sent home quicker than Chris Harrison can give you a personal goodbye. It seems that winning a date isn't necessarily a guarantee of staying around for another day as it often is on Paradise, so these contestants really work the room when elimination time comes around. Well, who doesn't love seeing pretty people on TV sweat about their show status?
Following a pattern often seen on Paradise (and anywhere where Ashley I. is, honestly), the date cards caused some drama among the group in Episode 1. When Canadian representative Kevin won the men's heat, Ashley wasn't thrilled about his strong-seeming connection with recent Arie castoff Bibiana. Kevin soon officially asked out Bibi. Cue an Ashley meltdown about her never getting date cards on any of her various Bachelor stints. Guys, where's Jared Haibon when you need him?
As Kevin told Bibi, he thought that deciding who to give a date card to was stressful, and his low-key approach just shows how new he is to the Bachelor spinoff world. Hang out with Ashley and you'll catch on soon, Kev.
At the rose ceremony, Chris burst everyone's bubble with the news that five contestants - three women and two men - would be sent home. He also revealed the vote-off twist, telling men to vote for one woman and women to vote for one man that they didn't think deserved a place in the games. The five contestants with the highest amount of votes would be cut. We don't know if this many people will be eliminated each episode, but given the fact that I'm still trying to keep names straight, I am hoping that we see a reasonable number of people leave each episode.
The vote-off system also twisted around the Bachelor formula we're so used to. Instead for vying for roses, contestants are encouraged to make platonic connections with as many people as possible. There's probably a reason why we don't remember American contestant Jamey from Rachel's season, and it turns out that the people in the Winter Games house find him just as forgettable too!
While I'll stick to the actual Winter Olympics for athletic entertainment, I think it's safe to say that the personal drama and new elimination system of Winter Games will keep me hooked for the next week and a half.
The Bachelor Winter Games returns on Thursday, Feb. 15 at 8 p.m. ET on ABC.