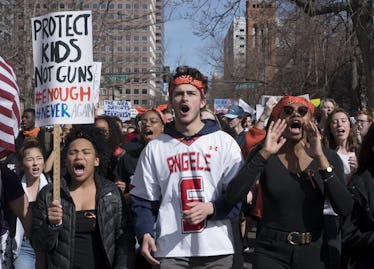 If You Can't Make It To March For Our Lives, There Are Plenty Of Ways To Watch It
Ross Taylor/Getty Images News/Getty Images
The March For Our Lives is set to attract hundreds of thousands of protesters from all across the country on Saturday, March 24. Still, there are bound to be lots of people who support the march's cause, yet can't make it to neither the march's main event in Washington D.C., nor the hundreds of affiliated marches scheduled internationally. Those people have either figured out — or are still trying to figure out — the answer to one question: How do you watch the March For Our Lives?
The answer? There are plenty of options.
For one, The Washington Post will host a live stream of the event — complete with coverage that features hosts and dispatches from reporters — on multiple platforms, including its mobile app, website, Facebook page, and YouTube channel. Another major newspaper, USA Today, will similarly host a livestream of the event, starting at 10 a.m. local time.
In addition, Tumblr announced that March Of Our Lives will takeover its site on Saturday. That takeover is meant to allow people who can't make it to affiliated marches to show support for the cause digitally.
"For those who can't join and aren't able to make those [sister] marches, we're giving them some of the tools ... to be able to express themselves as part of a digital march on Tumblr," Victoria McCullough, Tumblr's social impact and public policy lead, told Mashable. When users open the app on Saturday, they will see a livestream of the march's main event in Washington D.C., and there will be additional content tailored to the march's cause, according to Mashable.
Beyond those options, the march will be broadcast on C-SPAN, the cable network that shows live footage of political events in Washington D.C. (most typically congressional proceedings). C-SPAN's coverage of the march will begin at 10 a.m. local time, according to a programming note on its website.
In other words, as mentioned above, there are plenty of options.
Those who tune in to the march's main event in D.C. are likely to notice a couple of trademarks of the protest.
First, there is a chance that the list of speakers at the event will be exclusive to young people. On March 14, the same day as the National School Walkout, Hawaii Congressman Brian Schatz (D) announced on Twitter, "I'm going to be at the 'March for our Lives' next Saturday in DC and one of the coolest things about it is that they are not letting any politicians or people over 21 speak. There's something happening here."
Second, there are a number of musical artists who have committed to showing up to the event and joining students on the main stage. One of those artists, Jennifer Hudson, tweeted on Saturday, March 17, "Honored to perform at #MarchForOurLives in DC Mar 24 to show my support for students across the country as they take action to end gun violence."
Lastly, the event looks set to highlight personal stories of students from Marjory Stoneman Douglas High School — the site of a Feb. 14 shooting — as they call for gun reform.
On Friday, March 23, one student described for ABC why she's marching. She said,
My name is Leni Steinhardt, and I am currently a sophomore at Marjory Stoneman Douglas High School. On Feb. 14, I ran for my life in fear that I would lose it ... Allow me to reintroduce myself, my name is Leni Steinhardt and I am a survivor of a school shooting. That should never be a sentence any 16-year-old should have to write.
Even networks and platforms that aren't dedicating specific time slots to coverage of the protests are bound to have live footage of the various March For Our Lives demonstrations from around the country. Cable news networks, for instance, typically break from regularly scheduled programming to show live reporting from large protests. That's how MSNBC footage captured this cameraman falling while walking backwards during the National School Walkout.
On Saturday, any interested viewer will have plenty of ways to watch the March For Our Lives, and maybe even catch brief moment of levity during what will be a very serious movement.