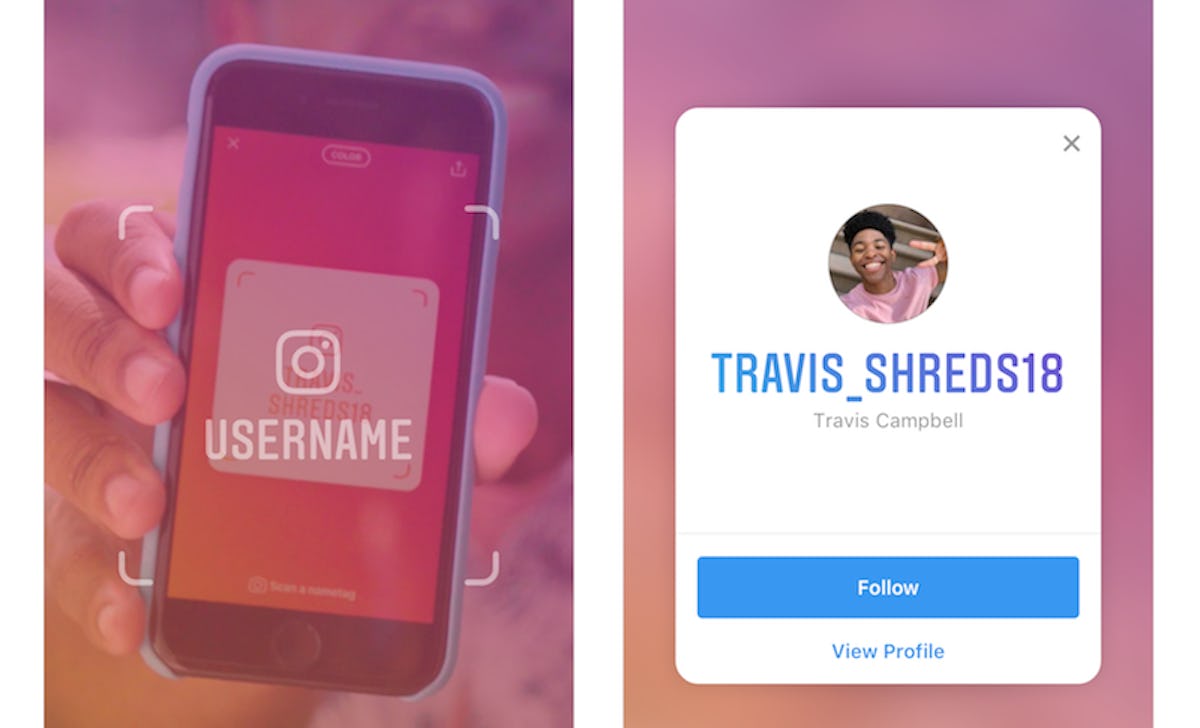 Here's How You Can Customize Instagram's Nametag Feature With Emojis & More
Instagram
Instagram's newest tool makes is super easy to follow new people in person (and, yes, that does still happen). It's called the nametag feature, and it lets you scan someone's phone screen in order to immediately locate their Instagram profile. Of course, their nametag will have to be on the screen when you scan it, or else the feature won't work. Thankfully, everyone can create a nametag — and it's pretty fun to do. If you're currently clicking around your profile and asking yourself, "Well, how do you make an Instagram nametag?" Don't worry, I have you covered. Start off by thinking about your favorite emoji.
I'm asking you to do that because you can customize your nametag with your go-to emoji, selfie, or color. But before I get to the fun part, let's start from the top. The first step in making your own nametag is navigating to your Instagram profile. Once you're there, you'll have to click the button in the top righthand corner of your screen (yes, I'm talking about the one with three lines on it). When you click on that button, you should see four menu options that say "Nametag," "Saved," "Discover People," and "Open Facebook." Hit "Nametag," of course.
Now, it's time for the fun part. Once you've hit "Nametag," you'll be taken to a screen that has your nametag at the center of it. Your nametag itself should be surrounded by an emoji pattern — but don't worry if you don't like the emoji that's already there. You can customize the background however you want and use your favorite emoji in the pattern (that's why I asked you to think of your favorite one). In order to do so, either tap on the background or swipe up on the screen. Then, you'll be able to scroll through all of the emojis and choose your go-to. The emoji you pick will populate the background of your nametag and be the first thing that new friends see when they scan your phone.
I've been into the cactus emoji lately, so I chose that one for my background:
If you'd rather decorate your nametag with a selfie, you can do that, too. First, hit the button at the top of your nametag that says, "EMOJI." Once you tap on it, the button should automatically change to "SELFIE." When it does, you can line up your face with a selfie camera that Instagram provides you with. You'll have a few filters to choose from when you're taking the selfie, which include fun glasses, heart eyes, a mustache, and a unicorn float (obviously). After you've taken the selfie and chose your favorite filter, your picture will populate the background (just like the emoji did). In order to change the filter you've chosen once your selfie is already up, simply tap on the screen.
There's one more customization tool for those of you who'd prefer a simpler nametag look. This one is the color option, which just changes the color of the background (there are no emojis or selfies involved). In order to find it, hit the "SELFIE" button at the top of your screen. It'll automatically change to "COLOR" — and then, you can tap the background to explore different hues.
TBH, my favorite is the gradient teal one.
Once you've chosen your favorite emoji, selfie, or color, you're all done making your nametag. Now, when you meet someone IRL and they want to follow you, all you'll have to do is whip out your nametag and show them your screen. Not only is this a convenient way to meet people, but it's also a fun way to learn about their personalities. Choose your nametag decor wisely, and have fun with it!