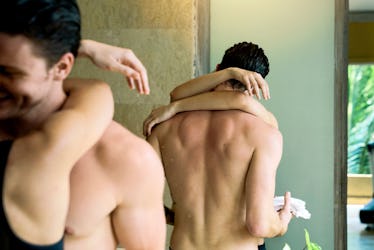 4 Signs You & Bae Have Hot Physical Chemistry, According To Experts
Is there anything greater than that feeling of being with someone who you're insanely attracted to and who you know feels the same way about you? Having chemistry with someone is an amazing feeling, but how do you know if you have physical chemistry? Even if you're in a relationship with someone, that doesn't mean you have physical chemistry, because it can look different for a lot of people.
Every couple is different, and therefore, physical chemistry will look different for most couples. It's different from emotional or intellectual chemistry, because "Physical chemistry starts out with a initial attraction," Julie Spira, online dating expert, tells Elite Daily. "Many people are attracted to the same physical type over and over."
Usually, you'll be able to tell if you have physical chemistry with someone because you can feel it, even though it's more than just a spark. But, if you're looking for some more concrete signs that you and your partner have totally got the hots for each other, then look no further.
No matter how long you've been together or how you got started, having physical chemistry can take your relationship to the next level. So, let's dive in.