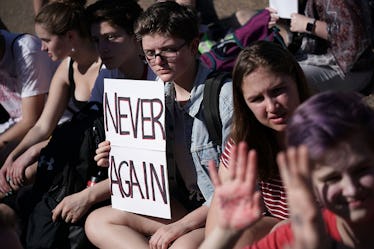 It Only Takes A Few Clicks To Join The National School Walkout Against Gun Violence
Alex Wong/Getty Images News/Getty Images
With the calendar turning from February to March, the nation is that much closer to seeing two large-scale demonstrations against gun violence in the same month. The first of those two demonstrations is the National School Walkout, which intends to prompt students, teachers, and parents to walk out of schools for 17 minutes on the morning of March 14, with each minute dedicated to a victim of the Feb. 14 school shooting in Parkland, Florida. While supporters of the cause might know what the movement stands for, a much simpler question might have gone unanswered thus far: How do you even join the National School Walkout against gun violence?
The process is not too complicated.
One way to join the nationwide walkout requires going to the demonstration's official website, which is hosted by the progressive organization Women's March.
On the right side of the website lies a widget — or, in layman's terms, a box — that prompts users to enter a zip code to find "nearby events."
Enter a New York City zip code, for example, and the widget will show a drop-down menu of different schools at which walkouts will be held — like NYU Medical School and the Lincoln Center-adjacent LaGuardia High School. Underneath each listening, the site displays a button with a label that says "get details and RSVP."
From there, the site merely asks for a first and last name, email address, and zip code before confirming attendance. Those who sign up will then be sent updates relevant to the walkout, which aims at inspiring legislative action in response to gun violence, according to the website.
A description of the demonstration on the site says,
Women's March Youth EMPOWER is calling for students, teachers, school administrators, parents and allies to take part in a #NationalSchoolWalkout for 17 minutes at 10am across every time zone on March 14, 2018 to protest Congress' inaction to do more than tweet thoughts and prayers in response to the gun violence plaguing our schools and neighborhoods. We need action. Students and allies are organizing the national school walkout to demand Congress pass legislation to keep us safe from gun violence at our schools, on our streets and in our homes and places of worship.
While those participating in the walkout are expected to have plenty of nationwide support, the marches are being organized at a time when potential consequences levied by school administrators for participating in protests have become a national story.
"What students need to look out for there is they need to know what the rules are regarding unexcused or unauthorized absences, which I think in most situations is what a walk-out would be, and make sure schools aren't applying those rules differently to them just because they're doing it for a political reason," ACLU fellow Vera Eidelman tells Elite Daily.
As mentioned above, the National School Walkout is the first of two nationwide demonstrations scheduled to take place in March. The second of the two has been organized by a group of students from Majory Stoneman Douglas High School, the site of the Parkland shooting.
The Stoneman Douglas students' demonstration, titled the March For Our Lives, is set to place in Washington D.C. ten days after the National School Walkout.
On Sunday, Feb. 18, during an appearance on ABC's This Week, junior Cameron Kasky announced the event.
"People are saying that it's not time to talk about gun control. And we can respect that," Kasky told ABC's Martha Raddatz. "Here's a time. March 24th in every single city. We are going to be marching together as students begging for our lives. This isn't about the GOP. This isn't about the Democrats. This is about the adults. We feel neglected and at this point, you're either with us or against us."
On March 24, supporters of the March For Our Lives are expected to have 500,000 with them, according to The Washington Post, just days after many others supporting the same cause are set to march in the National School Walkout Against Gun Violence.