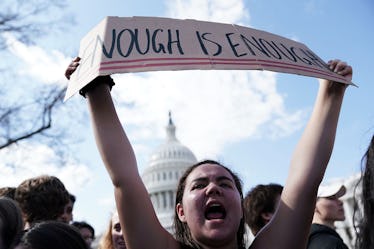 Yes, Students Can Protest Gun Violence, But Here's What You Should Know
Alex Wong/Getty Images News/Getty Images
Since a shooting in Parkland, Florida sparked a national gun debate, two subjects have gained prominence: protests by students across the country and the reaction of school officials to those demonstrations, including colleges which have accepted some of those students. For example, dozens of colleges have publicly announced since the shooting that high school students won't be denied admission for participating in protests, while other colleges have stayed mum. The fact that potential consequences of protest are a talking point at all, though, makes the question worth asking: Can students get in trouble for protesting gun violence?
The answer is an absolute yes, depending on the type of protest that students engage in. However, that doesn't tell the whole story.
Consider one simple example.
In the weeks since a gunman attacked Marjory Stoneman Douglas high school on Valentine's Day, there have been no shortage of stories about high school students who have either engaged in a walk-out protests or have planned a future walk-out — which features students exiting their school en masse, with a unified march typically following that exit.
One Houston-area superintendent, however, delivered a preemptive warning to students: "Needville ISD will not allow a student demonstration during school hours for any type of protest or awareness," Curtis Rhodes, the superintendent in Needville, Texas, said in a since-deleted Facebook post, according to ABC News. "Life is all about choices and every choice has a consequence whether it be positive or negative. We will discipline no matter if it is one, fifty, or five hundred students involved."
In the face of potential consequences like those THE Needville students face, it's important for those preparing to protest to have an understanding of standard school policies.
"Because generally the law in most jurisdictions require students to go to school, schools can discipline students for missing class, but they can't discipline them differently because of the political nature or message underlying their action," says Vera Eidelman, a fellow at the American Civil Liberties Union (ACLU) who focuses on speach and privacy, in an interview with Elite Daily. "So, another way to say that is: Even when they can discipline students for their action, they can't discipline them for their ideas."
Eidelman suggests that students should assess the nature of their protest — whether it involves walking out for the last period of a school day, for example — and consider the standard punishment for such action, according to school policy. Students should then weigh whether they feel comfortable with the consequence, while understanding that schools shouldn't pile on excessive punishment.
"What students need to look out for there is they need to know what the rules are regarding unexcused or unauthorized absences, which I think in most situations is what a walk-out would be, and make sure schools aren't applying those rules differently to them just because they're doing it for a political reason," Eidelman says.
But there are other types of demonstrations, other than walkouts, that students may plan. Regardless of the exact nature of the protest, it's important to consider how disruptive the demonstration would be.
In explaining why, Eidelman cited a landmark Supreme Court case, Tinker v. the Des Moines school district. The case established that students had the right to protest and express their free speech, regardless of their school's position on the subject of protest, but that the protest itself could not be disruptive to the school.
"Students don't lose their constitutional rights generally at the school house gate," Eidelman says, "but the key line there is whether or not what they're doing is disruptive to the school."
The bottomline Eidelman shares is clear: Be mindful of school policy, avoid demonstrations disruptive of school proceedings, but still, feel free to exercise free speech.
On Thursday night, March 1, the ACLU will host a Know Your Rights video training session to educate students about their constitutional right to free speech and expression. To learn more, click here.