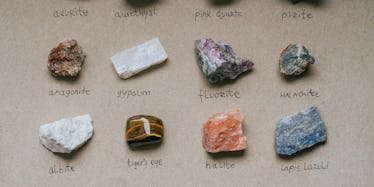 How To Use Crystals In Your Meditation Practice, Because 2018 Is All About Your Zen
The truly intriguing thing about meditation is the fact that, even though it's so incredibly powerful and healing, it doesn't technically require anything but your own body and mind. However, there are certain elements that can help deepen your mediation practice and elevate your state of consciousness, which is where crystals come into play. So, how do crystals help meditation? It's a bit more complicated than simply picking up any old gemstone and hoping it'll get the job done.
The overall goal of meditation is to practice non-attachment toward experiences and harness the ability to clear your mind at a moment's notice, shutting out external stressors and freeing yourself of negativity. With patience and persistence, this can be achieved over time, and incorporating crystals into is an excellent way to help you receive wisdom and guidance from the universe while you meditate.
There are so many types of crystals out there with various healing benefits, so choosing one that's in line with your intentions and aspirations is key to achieving a fulfilling and blissful, deep meditative state.
Make 2018 the best year yet by adding crystals into your daily meditation practice, and watch how beautifully your life manifests before you. If you're not quite sure where to start, follow these steps to a luxuriously healing crystal meditation.